Air India's plan to lease vacant floors in its iconic Nariman Point headquarters is facing rough weather, but Civil Aviation Minister Ajit Singh is confident the government-owned carrier would be able to carry out its plans to monetise the real estate.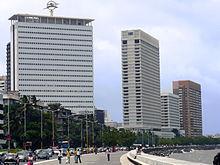 As a part of its turn-around plan, Air India plans to raise Rs 5,000 crore (Rs 50 billion) through sale or lease of its properties in Mumbai and Delhi. It also has properties and offices in cities in India and abroad, to which it does not even have flights.

The real estate monetisation plans include leasing 160,000 sq ft of floor space comprising 11 floors of the 23-storey Air India building. However, Air India has been forced to extend the bid date to November 29 due to a luke-warm response from companies.

Air India occupies six floors of the building and three of these have been leased out. The rest are largely unused. Air India plans to shifts its headquarters to New Delhi and let out its office space to private parties.

Singh admitted the real estate monetisation was being impacted due to sectoral problems. "Real estate is going through a difficult time. It (Air India building) is in an old area and a lot of companies are moving to newer areas,'' Singh stated.

He, however, expressed confidence that the lease proposal would find takers. "Air India has properties all over and has appointed a real estate consultant,'' he said. Singh expressed hope that Air India would be able to carry out its plans to raise Rs 5,000 crore from real estate despite tough conditions.

Real estate consultants and property experts remain sceptical about Air India's plans, pointing out that Nariman Point is no longer the preferred choice for office addresses for companies.

"Nobody wants to be at Nariman Point. Everybody is shifting from there. Corporates think it is better to shift to Lower Parel or the Bandra Kurla Complex ( BKC), which have rents of Rs 200 per sq ft, than paying Rs 250-Rs 300
at Nariman Point," said Raja Seetharaman, managing director of Aperon Realty, a real estate consultant.
Seetharaman says earlier this year, fast-moving consumer goods giant Hindustan Unilever was expecting to lease rent at Rs 350 a sq ft and had to close the deal between Rs 200 - Rs 250 a sq ft for its Churchgate property.
Added another realty consultant: "Today, the first preference is BKC, not Nariman Point. BKC and Lower Parel rates are low, which is the main attraction." The consultant fears that Air India may not get attractive prices for its office space and end up closing deals at lower than estimated price.
The Air India building was constructed in the mid-1970s. Since the company did not need so many floors, it rented the office space to other companies. Initially, as part of its rent arrangement, Air India paid the electricity dues of its tenants and soon realised it was paying more than the rent it collected. The airline was locked in litigation for several years to evict tenants and has managed to repossess most of the leased floor space.
In its report last year, real estate consultant Jones Lang Salle estimated that Air India was losing about Rs 80 crore (Rs 800 million) annually by not utilising its Nariman Point office.
"Air India owns collector leasehold rights to the most strategically-located and prominent building along Marine Drive. It measures approximately 220,000 square feet and can earn up to Rs 80 crore of rentals per annum - a reasonable figure if one calculates on the standard rental rates of Rs 300/sq ft for this location (this would include net rent after maintenance and property taxes). If monetised for capital value, this building can fetch up to Rs 800 crore,'' Jones Lang Salle had said in its report.