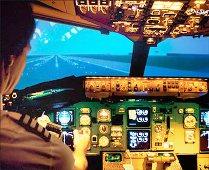 Civil Aviation Minister Ajit Singh has directed the Directorate General of Civil Aviation to set up a redressal mechanism for pilots, following complaints of discrimination and favouritism in training.

Examiners are senior pilots who check proficiency of junior pilots in simulators and on flights.

In view of a large number of complaints regarding various in-service tests and proficiency checks conducted by airline examiners, Singh reviewed
the current system and has directed the DGCA to immediately propose an institutional mechanism for pilots who are not satisfied with their examination results.
Although the redressal mechanism will function for all airlines, the infighting amongst Air India and the erstwhile Indian Airlines pilots for the Boeing 787 training seems to have triggered the minister's action.
The initial batch of 787 captains drawn from both AI and IC was trained by examiners from Boeing, but these examiners have now ended their deputation.