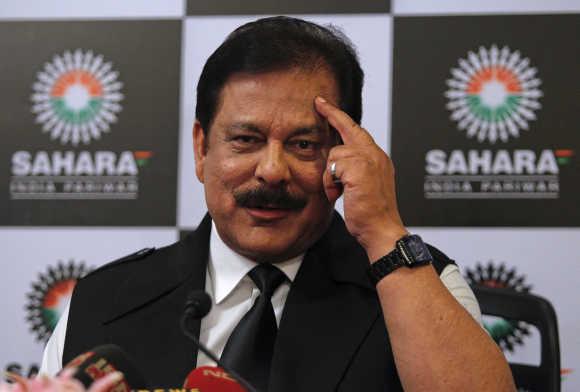 Unable to verify or trace a large number of bondholders in Sahara refund case, Sebi has begun a process to consult the business conglomerate for verifying the genuineness of such investors.
Sahara group, on its part, has said that it would fully cooperate with the market regulator to verify the credentials of its over three crore bondholders.
Supreme Court had asked two Sahara firms -- Sahara India Real Estate Corp Ltd (SIRECL) and Sahara Housing Investment Corp Ltd (SHICL) -- to refund through Sebi more than Rs 24,000 crore (Rs 240 billion) to over three crore bondholders with interest.
The Sahara group were also asked to provide Sebi with details of these bondholders, so that Sebi could refund their money after verifying their credentials.
However, a pilot verification project undertaken by Sebi found that a vast majority of these investors were not traceable, the market regulator said in a status report presented before its board late last month.
"These cases will be referred to Sahara in due course, for their explanation/clarification," Sebi informed its board. Subsequently, Sebi is now putting in place a mechanism to hold consultations with Sahara for verification of those investors who are either untraceable or whose credentials it is not able to verify, a senior official said.
When contacted, Sahara group said it would fully cooperate with Sebi, but also accused the market regulator of not "taking any assistance" from it despite its repeated requests.
"Sahara is cooperating with Sebi, but Sebi is not cooperating and is not taking any assistance from Sahara in spite of repeated request made by Sahara," a Sahara India spokesperson said.
The Supreme Court had passed its first order in the case on August 31, 2012, asking Sahara to deposit the investors' money and related documents with Sebi for refund process.
Later on December 5, 2012, the Supreme Court allowed the group to deposit the money in three installments -- Rs 5,120 crore (Rs 51.20 billion) immediately, Rs 10,000 crore (rs 100 billion) within first week of January 2013 and the remaining balance by February first week.
Sahara Group, however, deposited only Rs 5,120 crore (Rs 51.20 billion) and claimed this amount was more than sufficient to meet the outstanding liabilities as it had already refunded more than Rs 20,000 crore (Rs 200 billion) to the investors directly. Sebi has contested these claims and the matter would be heard next by the Supreme Court on July 17.
Asked about submission of documents, Sahara group spokesperson said: "We have provided large number of documents to Sebi, on demand, from time to time" and Sebi has still not started any verification process, for verification of investors' identity or verification of payments already made.
The market regulator told its board that 127 truck-load of documents submitted to it contained only 75 per cent of the entire documents required to be deposited and these were also "hopelessly mixed up" despite Sebi having set out the manner in which these papers should have been furnished.
Sebi said it also carried out a pilot study by sending redemption notices inviting claims to 21,253 bondholders. However, Sebi received less than 300 claims in response to these notices, while more than 7,000 notices were returned undelivered to reasons like 'incomplete or insufficient address', 'no such person', 'left' etc. Besides, there was no response to more than 13,000 notices.
Giving the details, the group said that SIRECL and SHICL in December 2012 delivered to Sebi 128 truck load of documents in 31,675 cartons, containing 3.03 crore investor forms, and 2.264 crore redemption vouchers, bank statements, statutory forms and other documents.
Prior to that, the two companies had also submitted two CDs containing the list of all bondholders. Later in February, the two firms delivered another CD with details of the bondholders to whom the money had been refunded.
The two firms have also submitted details like bank statements, cash books and copies of audited financial statements, the group said. Other documents submitted to Sebi include affidavits making disclosure of the assets held by Subrata Roy Sahara and of three directors of SIRECL and SHICL -- namely Ravi Shanker Dubey, Ashok Roy Choudhary and Vandana Bhargava, as also of the assets held by the two companies.
"In spite of the supply of documents as above, if any other document is asked by Sebi which may be relevant in the matter, we shall provide to Sebi within a reasonable time.
"Besides, 15 truck loads of documents are still at our Mumbai godown as Sebi has not accepted it. There is no default on our part. We have always tried to provide documents to Sebi, within reasonable time, by putting all our best possible efforts to comply their order," the spokesperson added.
Sebi had begun a probe way back in 2008 after it received complaints alleging that SIRECL and SHICL were issuing convertible bonds to the public throughout the country without complying with the applicable statutory requirements.
It was later found that the two companies had raised funds amounting to close to Rs 25,000 crore by allotting Optionally Fully Convertible Debentures (OFCD) to more than three crore investors without following various statutory and regulatory requirements stipulated under the Companies Act and the relevant Sebi regulations.
Subsequently, Sebi ordered the two companies and their top brass in 2011 to repay the amount raised through OFCDs to the investors along with a 15 per cent interest. The order was challenged by the companies, but it was upheld by the Securities Appellate Tribunal and later by the Supreme Court.