Capital markets regulator Sebi Chairman U K Sinha advocated the listing of bourses and greater competition among exchanges.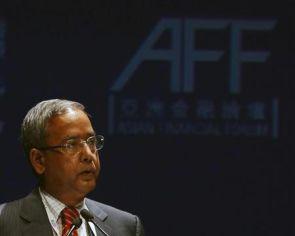 Sebi chief also said that efforts have be made to avoid "any conflict of interest" when it comes to regulatory and business functions.

He noted that as a regulator dealing with listed firms, the Securities and Exchange Board of India (Sebi) can't philosophically take a stand that listing aggravates problems.

Sinha said: "In fact our belief is not only for stock exchanges but for any corporate is that if that corporate is listed the diversification of the shareholding will lead to better checks and balances and better corporate governance.

"So I find it difficult to accept the argument that if there is a listing whether in a stock exchange or anywhere else, then it is going to aggravate problems and that it may lead to lesser corporate governance."

He also said that in a large country like India, competition is required in all businesses including stock exchanges.

Speaking at SKOCH summit in New Delhi, he said: "Some of you may be remembering that we had 23
stock exchanges in the country. Except three, all of them are lying closed and no activity is happening there.
"We will be working towards having a competitive stock exchange environment but whether it is regulation of stock brokers, whether it is the regulation of companies listed on stock exchanges we will be moving with caution."
The comments come against the backdrop of the regulator asking MCX-SX to constitute a committee of two independent directors and three institutional investor nominees to oversee key business decisions, policy matters and appointments of top management personnel.
The exchange is part of Financial Technologies which is also the promoter of National Spot Exchange Ltd (NSEL), that is caught up in a Rs 5,600 crore (Rs 56 billion) payment crisis.
MCX-SX began operations as a full-fledged stock exchange in February this year, but trading volumes of the exchange has been quite low as compared to rivals BSE and NSE. The exchange has got the licence after a months-long battle with Sebi within and outside the court.
BSE and the National Stock Exchange are two of the leading stock exchanges.