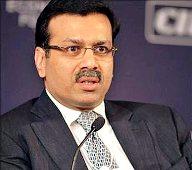 The RP-Sanjiv Goenka group is weighing options for Spencer's, its big retail unit, which include an initial public offering, demerger from CESC and inducting a strategic investor.

"We will be appointing consultants shortly to decide on the options," Sanjiv Goenka said. Spencer's is formally a wholly owned subsidiary of CESC.

Goenka is hoping Spencer's will break even by the second quarter of 2013-14.

However, the company will start the process of charting the retail business' future course right away.

Even as it decides on listing Spencer's organic growth, consolidation at the back end will be undertaken.

Currently it's at 950,000 sq ft and Spencer's will be adding another 160,000 square foot to its trading area.

Seven stores would be added, across Dhanbad, Lucknow, Raipur, Calcutta, Meerut, Aligarh and the National Capital Region, said Goenka.

There would be consolidation at the back-end as well, in Pune,
Bangalore and Kerala.
At another level, with foreign direct investment in the retail sector becoming a reality, there could be consolidation of the back-end with different retailers.
In the first six months of this financial year, Spencer's turnover was Rs 714 crore (RS 7.14 billion), compared to Rs 560 crore (Rs 5.6 billion) in the same period last year.
Firstsource buy
CESC had drawn flak from investors after the Firstsource buy, primarily due to lack of synergies.
Asked whether Firstsource would be hived off from CESC, Goenka noted it was already an independent listed company.
He was also confident of his investment in Firstsource.
According to the deal's contours, Goenka was paying Rs 400 crore (Rs 4 billion) for a 49.5 per cent stake.
"I am confident of the investment in Firstsouce. It has got tremendous potential," he said.
"A mandatory public offer would also be made. The Firstsource stock on Thursday closed at Rs 11.90.
Image: Sanjiv Goenka