Private equity investment in the real estate sector declined by 15 per cent in the first three quarters of 2012 calendar year to Rs 3,500 crore (Rs 35 billion) compared with the year-ago period, according to global property consultant Cushman and Wakefield.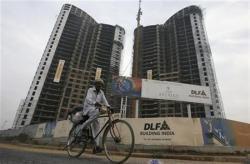 The consultant attributed the drop in PE investments to uncertain investment scenario in the country among others.
During the first three quarters of 2011 calendar year, the realty sector had attracted private equity investment worth Rs 4,110 crore (Rs 41.1 billion).
"The Indian real estate sector has seen a drop of 15 per cent in private equity investments in the first three quarters of the calendar year 2012 compared to a year ago," Cushman & Wakefield executive managing director (South Asia) Sanjay Dutt said in a statement.
"The reason for the fall in number of deals was mainly due to a lot of concerns on the government policy front coupled with an uncertain investment scenario, valuation and continued focus on exits for some vintage funds," he added.
Dutt, however, expects that shortfall could be made up in the coming quarter on the back of recent policy initiatives, and opportunities in key markets such as NCR, Mumbai, Pune, Bengaluru and Chennai.
According to the report, the total number of private equity transactions until date in 2012 is 23, marginally lower when compared to same period last year.
The residential segment witnessed the maximum private equity investments with the share of deals of the total private equity investments increasing by 9 per cent in the first three quarters of 2012, the report said.
Mumbai continued to be the preferred destination for private equity investments followed closely by Bengaluru and the national capital region (NCR).