Sahara India on Monday announced Rs 3,000 crore (Rs 30 billion) investment for its retail venture, while setting an ambitious revenue target of around Rs 50,000 crore (Rs 500 billion) after two years.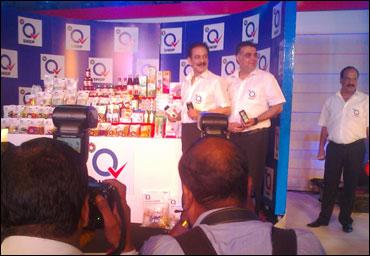 The group claimed that it will open around 1,000 retail outlets under the 'Sahara Q Shop' brand initially in five states covering 60 cities and towns by 2013. The initiative will kick off from August 15.
"The company has made an initial allocation of Rs 3,000 crore towards this business. We will invest according to the need as we go ahead," Sahara India Pariwar Chairman Subrata Roy told reporters here.
The first-phase launch of Sahara Q Shops, which would have an area of 300 square feet each, in Uttar Pradesh, Uttarakhand, Rajasthan, Bihar and Jharkhand.
Earlier this year, Sahara had announced its plans to foray into the retail sector under the 'Sahara Q Shop' brand of stores. These store would market a range of products under 73 categories, including staples, processed foods, personal care products and home care products.
The company plans to launch retail outlets in 998 towns and cities by March 2013. It is also aiming at revenues of Rs 15,000-20,000 crore (Rs 150-200 billion) in the first 12-18 months and around Rs 50,000 crore (Rs 500 billion) after two years.
"We are looking to open around 60,000 outlets in the country in the next 12-18 months. These would majorly be company owned," Roy said.
He added that the new venture would provide jobs to around 1.43 lakh people gradually within 18 months.
When asked about the reason for entering into the new segment, Roy said: "We always try to plan something to enhance the earnings of our workers. This is a very growing business in India. Today the yearly sale of these products in the country is 16 lakh crore and a growth rate of 20%".
The customers would be able to place an order for merchandise at these outlets and the items would be delivered at home by the company's sales force.
Speaking about the hotel business expansion plans in the country Roy said: "In India, we are going to add around 25,000 rooms in the five star category with in two years. In four star and three star categories, we are going to add around 15,000 rooms," Roy said.
He also said that the company would be launching dairy business in March next year.
Replying a query, Roy said Sahara has bought Digicable for $52 million.
When asked about FDI in retail Roy said: "If its coming as quality aspect we should welcome anybody and everybody. But most important, which would be suicidal if we allow them to bring products from outside.
"It will be suicidal for the country, so the condition should be they have to manufacture here barring certain items which are difficult to manufacture here," he added.
Additional inputs from PTI