Ten states and Union Territories have endorsed the Centre's decision to allow FDI in multi-brand retail, Minister of State for Commerce and Industry Jyotiraditya Scindia said on Monday.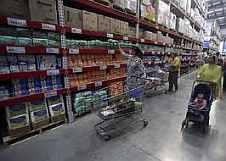 While Scindia had informed the Rajya Sabha on August 8 that only Delhi, Manipur, Daman & Diu and Dadra and Nagar Haveli have conveyed their support to foreign direct investment (FDI) in multi-brand retail, he said in the Lok Sabha that chief ministers of six other states have "publicly endorsed" the policy.

"The Chief Ministers of Maharashtra, Assam, Haryana, Uttarakhand, Andhra Pradesh and Jammu and Kashmir through their press statements have publicly endorsed the policy and
have asked for its implementation," Scindia said.
The Cabinet had decided on November 24, 2011 to allow 51 per cent FDI in multi-brand retail, but the same could not be implemented in the face of strong opposition from UPA-ally Trinamool Congress and several state governments.
While the Commerce and Industry Ministry has been making fresh efforts to forge a political consensus on the issue, Scindia said, "no time-frame can be specified" for implementing the decision.
A day after Scindia had said that only Delhi and three UTs had conveyed their support for FDI in retail, his senior Cabinet colleague Anand Sharma had stated that the reply to a question in Parliament was not correct. More states are in support of the decision, Sharma had stated.