Sahara India on Monday said it has earmarked an investment of Rs 3,000 crore (Rs 30 billion) to launch retail outlets -- Sahara Q Shops -- initially in five states covering 60 cities and towns from August 15.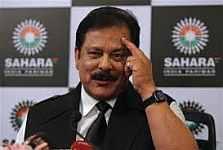 "The company has made an initial allocation of Rs 3,000 crore towards this business. We will invest according to the need as we go ahead," Sahara India Pariwar Chairman Subrata Roy told reporters in New Delhi.

The first-phase launch of 'Sahara Q Shops' will cover 60 towns and cities across five states -- Uttar Pradesh, Uttrakhand,
Rajasthan, Bihar and Jharkhand.
It plans to launch retail outlets in 998 towns and cities by March 2013.
The company is aiming revenues of Rs 15,000-20,000 crore (Rs 150-200 billion) in the first 12-18 months and around Rs 50,000 crore (Rs 500 billion) after two years, Roy said.
"Our newest quality consumer merchandise retail venture is one such giant step which we have undertaken to curb the menace of prevalent adulteration practices in the market," Roy added.
Sahara Q Shop would market a range of products under 73 categories, including staples, processed foods, personal care products and home care products.