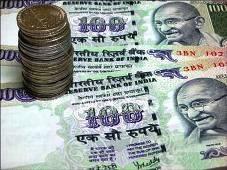 LG Electronics chief operating officer Y V Verma says he 'doesn't understand' why rural consumers went slow on their purchases this November -- a month that usually sees good demand from consumers in India's hinterland, thanks to the income villagers receive after the winter crop harvest.

"Normally, we do brisk business in November in rural areas because consumers there have money after harvesting the crop.

"They want to spend it on products for their homes.

"But, last month there was a visible slowdown across home appliances and consumer electronic products," Verma says.

India's number one consumer durable company is articulating the problem consumer goods companies are facing, and it is hurting them where it hurts the most.

For, Bharat has always helped them out when India has faltered.

For the past few years, rural demand has been the key for most FMCG companies to push their overall sales.

In the past three years, rural FMCG sales in volumes have been growing at a heady 15 per cent per annum, while urban sales growth has been around 10 per cent.

However, rural sales growth has been only 10 per cent in April-September this year and that is a cause for worry.

Sector analysts say this growth could be in single digits if prices continue to rise. FMCG analysts Shirish Pardeshi and Aniruddha Joshi of Anand Rathi say high inflation and a fall in government spends in rural areas are likely to curb volume growth in consumer products.

Marico chairman and managing director Harsh Mariwala agrees. Much of this, he says, is because government finances are strained.

"I don't think the government will be able to pump in more money through various rural schemes like NREGS and push rural demand any
more," he says.
Mariwala says the rise in the overall cost of living is also leading to deferment of purchases, which is a cause for concern as there has been a marginal slowdown in fast-moving consumer goods sales in October-November.
He, however, hastens to add it would be foolish to write an epitaph for the rural story.
An epitaph will surely be premature, but what everyone agrees is rural consumers have started holding back purchases.
Pointing out the tide will turn if inflation eases, Sunil Duggal, chief executive officer, Dabur India, says his company has on average effected two price increases this year because raw material prices have gone through the roof and they have only been able to partly absorb the cost.
"The reduction in offtake as a result of the price hike has been more in rural India than urban markets," he admits.
After all, India's headline inflation has remained consistently above the nine per cent mark for almost a year now, despite 13 rate increases by the Reserve Bank of India since March 2010.
In its October-end review, the central bank had said if inflationary pressures began to ease by December, more rate rises would not be needed.
While the food price index grew the slowest in four months for the week ended November 19, it still remained above the central bank's comfort zone at eight per cent. Fuel inflation, on the other hand, rose marginally to about 15.53 per cent for the week ended November 19 as compared to 15.49 per cent for the previous week.
The industry is living on hope.
As Shantanu Dasgupta, Whirlpool's vice-president for corporate affairs & strategy, (South Asia) says, everything depends on how the issue of food inflation is tackled.
If that is sorted out, one would see healthy disposable income available for allied consumption.