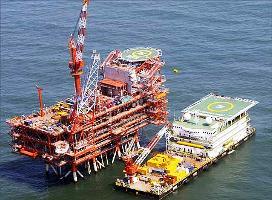 Reliance Industries will up production from its D1, D3 and MA fields in its Krishna Godavari block, by three or four million standard cubic metres per day by the end of the next financial year.

After announcing its third-quarter results on Friday, RIL told analysts it plans to raise production from these fields by March 2015.

Gas production will see a boost from R-series and the satellite fields in 2017-18.

Investment decisions for the R-Cluster development are subject to key approvals.

"RIL said 15-16 mscmd is the new normal we can work with before R-Series satellite fields begin production in 2017-18," said a senior analyst with a domestic brokerage on condition of anonymity.

"Drilling of development well MA-8H has been completed and put to production in January 2014. . .

Current plan for incremental production rate of 2.5 mscmd of gas -- upside being based on well performance.

Planning for MA-6H side track to enhance gas recovery," RIL says in a financial presentation on its website.

The company will invest $747 million in increasing production from D1, D3 and MA fields.

Natural gas production from KG-D6 averaged at 14 mscmd of gas and 5,930 barrels of oil per day for the nine months ended December 2013.

KG-D6 fields, which began gas production in April 2009, had hit a peak of 69.43 mscmd in March 2010 before various factors such as geological complexity, natural decline in the fields and higher than envisaged water ingress led to a fall in gas production.

BP Plc and Canada's Niko Resources Ltd are RIL's partners in KG-D6.
RIL, which reported its third-quarter numbers last week, saw its net profit flat both sequentially and annually at Rs 5,511 crore (Rs 55.11 billion).

RIL's net profit for October-December for FY13 stood at Rs 5,502 crore (Rs 55.02 billion).

RIL's other income stood at Rs 6,900 crore, up 32 per cent against Rs 5,755 crore in the corresponding previous quarter.

"This was mainly on account of higher liquid investments," RIL said in a press statement.

Revenue during the quarter was up by 10.5 per cent at Rs 1.06 crore.

"Reliance's robust refining configuration enabled it to deliver stable refining profits in 3Q FY14, against the backdrop of declining regional benchmark margins," said Mukesh Ambani, chairman and managing director of RIL.

Changing gear
Gas production will see a boost from R-series and the satellite fields in 2017-18
Natural gas production from KG-D6 averaged at 14 mscmd of gas and 5,930 barrels of oil per day for the nine months ended December 2013
KG-D6 fields, which began gas production in April 2009, had hit a peak of 69.43 mscmd in March 2010