Reserve Bank of India Governor Duvvuri Subbarao said the central bank will take Thursday's advance numbers for fiscal year economic growth into account while framing monetary policy for its next review in March.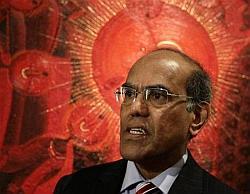 India's gross domestic product (GDP) is estimated to grow an annual 5 percent in the 2012/13 fiscal year, the government said
on Thursday, signalling that the worst economic slump in a decade could be far deeper than earlier anticipated.
The RBI had revised the economy's growth to 5.5 percent for the financial year ending in March from its previous estimate of 5.8 percent.
The central bank governor also said he is looking forward to the upcoming budget for the fiscal 2013/14 year to get a better sense of the government's fiscal consolidation plans.