As requests for loan recasts hit all-time high and are set to top Rs 3.25 lakh crore (Rs 3.25 trillion) this fiscal, RBI today sharply raised the provisioning for restructured assets to 2.75 per cent from earlier 2 per cent, a move that will hit the bottom lines of banks by around 4 per cent.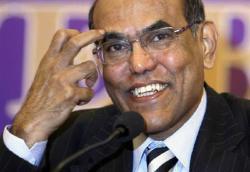 "It has been decided to increase, with immediate effect, the provisioning for restructured standard accounts from the existing 2 per cent to 2.75 per cent," the RBI said in its second quarter review of the monetary policy.
Detailed guidelines in this regard will be issued shortly, it added.
According to the central bank data, the corporate debt restructuring or CDR cases jumped to a high of 392 as on March 2012 from 225 in March 2009, taking the amount at stake to Rs 2,06,493 crore (Rs 2.06 trillion) from Rs 95,815 crore (Rs 958.15 billion).
Reacting to the development, the BSE Bankex slid nearly 3 per cent, led by losses in state-run banks like SBI, BoB, BoI, PNB, IOB among others, which lost nearly 3 per cent mid-session.
Even private lenders were hit with HDFC, ICICI, Axis among others losing over 2 per cent, while the benchmark Sensex shed nearly 1 per cent mid-session as the RBI poured cold water on rate cut hopes.
According to analysts, the RBI tightening will shave nearly 4 per cent off bank's bottom lines.
The current fiscal has seen further spurt in CDR cases with the first quarter alone seeing nearly 30 cases totalling worth over Rs 40,000 crore (Rs 400 billion).
The second quarter also witnessed major spurt in CDR cases with all the stats-run banks, which have announced their Q2 earnings reporting massive spike in CDR assets.
The RBI move will dearly impact the banks, especially PSBs, which have witnessed an unprecedented rise in loan restructuring due to economic stress of their borrowers.
Some critics also call it a ploy by the banks to restructure loans, and not show them as bad assets, to protect bottom lines.
In an August 31 report, credit ratings agency Crisil had estimated CDR assets to touch Rs 3.25 lakh crore (Rs 3.25 trillion) by March, with the state-run power utilities and infrastructure companies contributing the most.
As per the RBI data, restructuring of standard assets for the entire system as a whole stood at Rs 1,06,859 crore (Rs 1.07 trillion) or 2.66 of gross advances as on March 2011.
Last month, the Centre had approved a CDR for 22 state-run discoms worth Rs 1.9 lakh crore (Rs 1.9 trillion). A new CDR proposal to the tune of nearly Rs 40,000 crore (Rs 400 billion) is on the anvil for the troubled textile sector.
Yesterday, the debt-laden wind power major Suzlon said it would move the CDR cell to recast its Rs 14,000 crore (Rs 140 billion) of banks loans.
The Rs 5,000 crore (Rs 50 billion) debt of the troubled media house Deccan Chronicle; nearly Rs 8,000 crore (Rs 80 billion) of NPA loans of grounded Kingfisher Airlines as well as Rs 2,000 crore (Rs 20 billion) bad loans of the Mumbai-based Zoom Developers could also be going to the CDR cell anytime.
The CDR is a mechanism wherein multiple lenders to the same entity meet up to decide on the fate of accounts collectively and restructure loans.
The RBI had constituted a working group chaired by its executive director B Mahapatra in April to look into the CDR mechanism. It had submitted its recommendations and the RBI has invited comments on it.
Based on the recommendations, draft guidelines on the subject will be issued by end 2013, it said, adding that the increase in provision is an immediate measure.
The RBI officials have expressed reservations that the mechanism is biased towards more privileged customers.