Lenders may give a fresh lease of life to Kingfisher if the beleaguered airline repays about 10 per cent of the outstanding loan amount of over Rs 7,000 crore (Rs 70 billion) immediately. Banks which have given loans to Kingfisher may consider this option when its consortium meets soon to take a decision on the issue.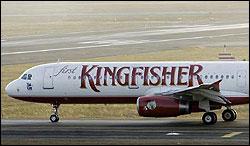 "We may consider corporate debt restructuring (CDR) for Kingfisher if it agrees to pay about 10% of the outstanding loan. No fresh loan will be given for the next one year," a top executive with one of the lenders said on condition of anonymity.
The Kingfisher account has turned into a non-performing asset (NPA) for most of the banks. The airline would need to repay about half of the outstanding amount to make it a standard asset. If CDR is allowed, the airline can get going by paying a small amount and banks may resume lending after some time. 
The 17-bank consortium led by the State Bank of India is expected to meet soon to decide on the future course of action. Kingfisher Airlines promoter Vijay Mallya is also likely to be invited for the meeting.
Banks are expecting that an equity infusion in the airline by a foreign investor may revive the company and thus it would be in a position to service its loan. The government recently allowed foreign direct investment by foreign airline into Indian carriers.
However, if Kingfisher fails to get a foreign investor and does not repay its loans, the banks will recover their dues by liquidating the pledged assets.
Lenders agreed liquidating the assets might not be enough for fully recovering their dues and they might have to take some hit on their books.
"The group of banks will take a call on Kingfisher account as to how to go about it ... It will be a collective decision of all banks. Date of the meeting will be decided by the State Bank of India," Punjab National Bank chairman K R Kamath told reporters on Friday.
SBI, the lead banker in the consortium, has over Rs 1,500 crore (Rs 15 billion) of exposure to the company. IDBI Bank, Bank of India, Bank of Baroda, Punjab National Bank and Oriental Bank of Commerce are some of the other lenders with exposure to Kingfisher. Banks have already restructured Kingfisher loans worth Rs 6,500 crore (Rs 65 billion).