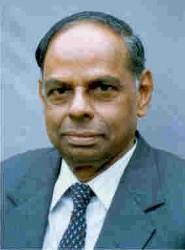 C Rangarajan, chairman of the Prime Minister's Economic Advisory Council, could soon be playing referee between finance and petroleum ministries over export parity pricing of petroleum products.

According to people close to the development, he is the frontrunner to head a committee that both the ministries are planning to set up to solve the dispute over a finance ministry proposal to price auto fuel at export parity, rather than import parity pricing.

The finance ministry's proposal aims to bring down the underrecovery of oil marketing companies.

Currently, 2.5 per cent customs duty on petrol and diesel under the IPP is covered as underrecoveries and it doesn't contribute to the exchequer.

Under the existing formula, OMCs might be overcompensated, finance ministry officials said.

Responding to the finance ministry's suggestions, petroleum and natural gas minister M Veerappa Moily said EPP is unviable.

The EPP system was first suggested by the B K Chaturvedi committee, but was rejected earlier.

The oil ministry is opposing the suggestion, since it will adversely impact the viability of some refineries being run by the OMCs.

"Now, I am preparing a special note on this and will soon respond to the finance ministry," said Moily.

A finance ministry official said both the ministries are now looking to entrust a committee to sort out the dispute.

Besides Rangarajan, other names such as Planning Commission member B K Chaturvedi and oil and gas expert Kirit Parikh are also doing the rounds. Petroleum ministry officials, too, confirmed there were talks in this regard.

"We are seeking to shift to an issue of EPP rather than TPP (trade parity price) or IPP that was there on the computation of underrecovery.

"It's still to be finally accepted by the petroleum and natural gas ministry.

"Definitely, it will lead to reduction in under recoveries at least to the extent of Rs 15,000 crore (Rs 150 billion).

"So, clearly, Rs 65,000 crore (Rs 650 billion) we are providing in the Budget seems to be an over-provision," Finance Secretary R S Gujral told Business Standard.

After Parliament goes into recess, Moily and finance minister P Chidambaram would finalise a committee, said an official.

"It would be entrusted with the job only if the two ministries are unable to find consensus.

"However, for the time being these are the names that are going the rounds," the official added.

State-run oil majors such as IndianOil, Hindustan Petroleum and Bharat Petroleum are expected to make an under recovery loss of Rs 1.6 lakh crore (Rs 1.6 trillion) by the end of this financial year.

Out of which, about Rs 60,000 crore (Rs 600 billion) will come from upstream companies, while the rest would have come as a subsidy from the government.

During the April-December 2012 period, the under-recovery from diesel has decreased to Rs 73,815 crore (Rs 738.15 billion), compared to Rs 81,192 crore (Rs 811.92 billion) during the same period last year.

While on kerosene, it has dropped to Rs 21,891 crore (Rs 218.91 billion), compared to Rs 27,352 crore (Rs 273.52 billion) during April-December 2011.

Domestic LPG also saw a minor decline to Rs 29,148 crore (Rs 291.48 billion), compared to Rs 29,997 crore (Rs 299.97 billion) during the same period in 2011.
Image: C Rangarajan