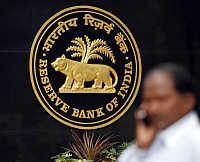 Ahead of the festive season, a sluggish credit growth, coupled with high cost of funds, has prompted public sector banks to look at selectively reducing interest rates on certain portfolios, especially retail and small and medium enterprise loans.
Last month, The Reserve Bank of India had cut cash reserve ratio by 0.25 per cent to 4.50 per cent, which was expected to infuse Rs 17,000 crore (Rs 170 billion) into the monetary system.
Responding to the move, the country's largest public sector bank, State Bank of India, had reduced its base rate by 0.25 per cent to 9.75 per cent.
Ruling out the possibility of further reduction in base rate, Diwakar Gupta, Chief Financial Officer and Managing Director, SBI, said, the bank might look at launching special loan schemes ahead of festive season to boost demand.
"At present, we do not contemplate further reduction in base rate. However, we might take some decision on launching special schemes, like providing one time rebate to customers," he said. Notably, SBI, has an excess case reserve of about Rs 60,000-90,000 crore (Rs 600-Rs 900 billion), which it is finding difficult to deploy, as credit growth is sluggish.
Several smaller public sector banks too have resorted to reducing interest rates on selective loan portfolios.
"Unless the repo rate comes down, it will not be possible to reduce base rate. Due to high inflation, we cannot reduce deposit rates too. We responded to the RBI cut in CRR by offering preferential rate," said M Narendra, chairman and managing director, Indian Overseas Bank.
It has already launched several special rate schemes in the housing and car loan portfolio, apart from waiving off processing fee in certain loans. The bank recently reduced interest rate on housing loan by 1.50 per cent, and might further reduce the rates, said Narendra. The bank has also reduced the rate of interest in loans against jewellery to 12.50 per cent, from 14.25
per cent earlier.
"The benefit of reduction in base rate is often limited to large corporate. By reducing selectively interest rates, its benefits can be given to a large number of customers," explained Narendra.
Notably, the asset liability committee of several public sector banks will meet over the next week to take a call on base rate pricing.
Kolkata-based United Bank of India   recently reduced its interest rates spread for the small and medium loans between 75-225 basis points. The bank's SME portfolio at present is about Rs 8,000 crore (Rs 80 billion), which is about 12 per cent of its total portfolio.
This is for the first time, that the bank has decided to reduce interest rate on a certain portfolios, as the credit growth failed to pick up after the June quarter. The bank's base rate at present is 10.45 per cent.
"We are working on ways to reduce interest rate. However, unless the cost comes down it will be difficult to reduce base rate. We are collecting information on different portfolios, and take a decision soon," said Bhaskar Sen, chairman and managing director, UBI.
The bank has also reduced its credit growth target for this financial year to 15-16 per cent, from 20 per cent earlier. In the quarter ended June 2012, the bank's credit growth was 19.85 per cent.
"Going forward, if the present trend continues, we do not expect credit growth of more than 15-16 per cent," said Sen.
Kolkata-based Allahabad Bank too has reduced interest rates on retail loans. The bank's ALCO committee will meet next week to discuss the possibility of reducing vase rate.
"In our half yearly assessment we found out that the cost of deposits have come down only marginally. We will take a call on the possibility of reducing base rate next week," said T R. Chawla, executive director, Allahabad Bank.