The corridors of power may have already started talking about green shoots of recovery following the recent mini-reforms but the country's top bankers are circumspect. According to them, India Inc is in no hurry to revive capital expenditure plans.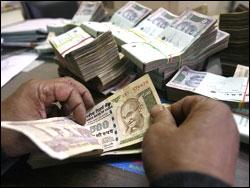 At a recent meeting with the Reserve Bank of India (RBI), 10 of the country's top bankers said companies were still keeping expansion plans on hold, as business growth continued to be slow in an uncertain economic environment.
Nine of 10 bankers who attended the meeting admitted their sanctioned loan pipeline was shrinking fast due to tepid demand. "If you take a poll of the top 100 companies in the country, you will find them saying nothing has changed despite the reforms. Confidence will return only if things start happening on the ground," said the chief executive of a leading foreign bank in India.
A consortium of lenders led by State Bank of India (SBI), the largest commercial bank in the country, sanctioned a couple of loan proposals from Tata Steel and Hindalco recently. But SBI is not drawing any comfort from these and does not expect a significant improvement in loan demand, at least in the near term.
"There is a feel-good aspect because the government has started taking steps to drive reforms. But we do not see an immediate surge in demand for project loans. The pipeline is still thin," a senior SBI official said.
In 2011-12, banks and financial institutions sanctioned 668 projects that proposed investments of close to Rs 212,000 crore, data available with the RBI showed. That was significantly lower than the previous financial year, when 710 projects involving Rs 392,600 crore in investments were sanctioned by lenders.
The RBI said the planned capital expenditure for the current financial year was estimated around Rs 207,300 crore, even lower than the 2011-12 level.
A few bankers, however, expressed optimism the second half of the financial year would be better than the first six months but added a recovery in capital expenditure would take more time.
"There is renewed business confidence as reflected in the behaviour of the stock market. The reforms are small stepping stones that will provide a springboard for capital expenditure.
Obviously, there is a lag effect and full-scale revival will take some more time. But in the past month, there has been a significant improvement in sentiment and I believe the pendulum is moving again towards growth," Rana Kapoor, founder, managing director and chief executive of YES Bank, said.
Industry analysts said while the worst for the economy seemed over, some pain was left at least for the next six months. "The big picture is that the worst is over, in our view. The next catalyst for market moves should be lending rate cuts as the euphoria over reform measures subsides.
We expect lending rates to come off 25-50 basis points by December," Indranil Sen Gupta, India economist at Bank of America-Merrill Lynch, wrote in a note to clients on Friday.
He warned if lending rates were not reduced, economic growth would continue to moderate as companies would refrain from taking up new projects.