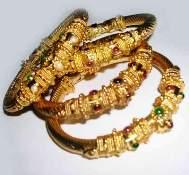 Sky-high gold jwellery prices will haunt buyers in 2010 also though India is better placed than its global peers, where people are slowly turning back to purchases, according to World Gold Council.
"In terms of jewellery, it is likely that the high price will continue to adversely affect demand, consumer confidence is returning faster to the traditionally strong jewellery markets of India and China than in other parts of the world," WGC Managing Director India Ajay Mitra said in a statement.
Jewellery demand was hit in 2009, due to global recession and record high prices in the key jewellery buying markets and elevated volatility levels of gold price, it said.
As a result, the demand was significantly lower in 2009 than a year previously, the statement added.
However, investment demand remained strong supported by continued economic and currency uncertainty, especially fears about future inflation, emanating from rapid money supply growth, and dollar weakness, the WGC said.
"Moreover, despite rapid investment inflows in recent years, allocation to gold remain low as a percentage of total global assets and there is ample scope for further growth," it added.
On supply side, mine production has been declining since 2001, and fell further 3 per cent last year to 2,400 tonnes. The outlook for new mine production remained benign, even as there has been a sharp increase in exploration spending since 2004, there has not been any new discoveries of gold.
Mining is, however, only one part of supply and practically all of the gold that has ever been mined still exists in jewellery form. "At the moment, our best estimate of above ground stocks is 163,000 tonnes, most of which resides in the jewellery sector in India," WGC said.
Scrap or recycled gold, it said, had been high this year due to record high prices in many jewellery-buying countries, but it has eased lately as the economy showed signs of recovery and in 2010 "distress selling" of the precious metal may continue to ease.