Markets regulator approves proposal to transfer promoter holding in excess of 75% to irrevocable independent trust
The Securities and Exchange Board of India (Sebi) has approved a unique proposal - Azim Premji-led Wipro transferring promoter holding to a philanthropic trust to achieve the 25 per cent public shareholding requirement.
The move would see the transfer of promoter holding in excess of 75 per cent in Wipro to irrevocable independent trust, which would carry out philanthropic activities. If Sebi hadn't accepted this proposal, Wipro would have had to sell shares worth about Rs 2,500 crore (Rs 25 billion) through an offer for sale.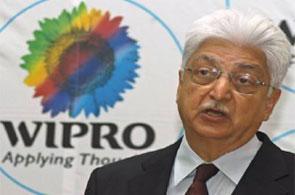 Currently, Wipro's promoter group owns 3.28 per cent stake, valued at about Rs 2,870 crore (Rs 28.7 billion) at current market prices. Today, the Wipro stock closed at Rs 355 on BSE, a rise of 0.8 per cent. As of today, the company's market capitalisation stood at Rs 87,418 crore.
"Sebi has approved its proposal to meet the minimum public shareholding requirement through a transfer of equity shares by the promoter group to an 'Irrevocable Independent Trust', with trustees either from public sector banks or public financial institutions, for advancing philanthropic activities through its beneficiaries," Wipro said in a release. It added to meet the public shareholding requirement, Irrevocable Independent Trust would be categorised as 'public shareholding'.
Within two years, Wipro would carry out a sale of equity shares, forming part of the trust fund, the company said.
So far, the Bangalore-based company, which had a promoter stake of 79.2 per cent in March 2012, had used multiple routes to reduce promoter holding. On March 14, 2012, it sold shares worth about Rs 750 crore (Rs 7.5 billion) at Rs 418 a share through an offer for sale. Subsequently, promoter holding fell to 78.4 per cent. It also carried out a de-merger of its consumer business, which was expected to increase its public float.
The deadline for meeting Sebi's 25 per cent public holding norm is next month. More than 100 companies would have to sell shares worth about Rs 15,000 crore to meet the minimum public shareholding rules. Wipro had to sell the most (Rs 2,867 crore at current prices) to meet the norm, followed by real estate major DLF (Rs 1,307 crore).
Sebi had introduced two new share-sale routes - offer for sale and institutional placement programme - to help companies meet the norm. Besides these routes, companies can also increase public holding by rights and bonus issues to public shareholders. Sebi has said it would consider other proposals on a case-by-case basis.