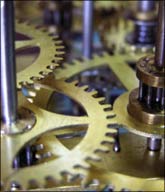 The Centre is likely to announce the policy for units in the proposed special investment zones by end of this year, a move that is aimed at increasing the share of manufacturing in the overall economic growth.
The government expects these special areas -- National Manufacturing and Investment Zones -- will help in increasing the share of manufacturing from 15 per cent of the GDP at present to 25 per cent by 2022.
"We are seriously considering to put this policy for public consumption by the end of this year," director in the department of Industrial Policy and Promotion Rajat Kumar said today at the sidelines of PHD Chamber of Commerce and Industry meet.
The DIPP, part of the industry ministry, has received large number of suggestions on its concept paper for setting up NMIZs, which are being planned as mega industrial zones and subsume special economic zones, industrial parks and warehousing units.
Kumar said an inter-ministerial discussion on the issue is likely in October or November.
The paper had suggested radical steps including freedom to downsize workforce and curtailing workers' right to join unions.
It also says that state governments should acquire land for the NMIZs, which could be promoted mainly by the private sector.
Besides, it has recommended low-interest loans for units opting for clean technology or products in the NMIZs.
Although the policy is still awaited, Commerce and Industry Minister Anand Sharma recently announced that the first NMIZ would come up in Rajasthan.