The much-awaited meeting between Prime Minister Manmohan Singh and Indian industry, scheduled for July 29, is expected to be stormy even as the government has said it is willing to listen to all that the industry has to say.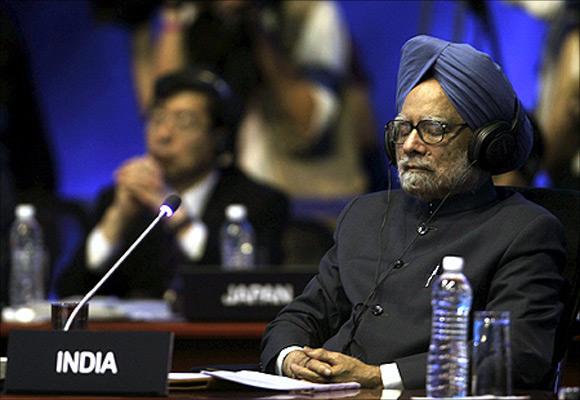 The tone was apparently set when commerce and industry minister Anand Sharma met captains of Indian industry early this month. It is learnt industry expressed "serious displeasure over the failure" of the National Manufacturing Policy, which has failed to invite any sizeable investment since it was launched more than two years earlier, sources told Business Standard.

But before the series of meetings that Sharma had with industry, he had called for a closed-door meeting on the manufacturing policy and foreign direct investment (FDI) policy overhaul on June 28, in which only a selected few were invited, these included members of the National Manufacturing Competitiveness Council, comprising its chairman V. Krishnamurthy and member secretary Ajai Shankar.
Telecom Regulatory Authority of India chairman Rahul Khullar, Department Of Industrial Policy and Promotion Secretary Saurabh Chandra and industrialists like Sunil Kant Munjal, Hari S Bhartia, Adi Godrej and Venu Srinivasan were also present in the meeting.

During this meeting, Sharma is learnt to have asked for inputs from his invitees on what they believed the government could do so that Indian industry would be back in action. According to one official present in the meeting, the government seems to have finally woken up from slumber, as alarm bells are ringing aloud with dwindling capital flows and a massive current account deficit and more and more foreign institutional investors ditching India.

Sharma, who was on an official Europe trip during late June, had almost back-to-back meetings with industrialists, chambers and export promotion councils before embarking on yet another series of foreign tours. But it seemed in each of the meetings, industry came down heavily on him for not taking adequate steps to support it at such a difficult time.

Industry is likely to urge the prime minister to fast-track certain key pending decisions. But the impact of the falling rupee is expected to dominate the meeting.

In a recent analysis of the rupee depreciation on India Inc, CRISIL stated it was going to adversely impact the industry, given the large foreign currency debt on the books and only partial hedging.

Besides, this would lead to an increase in prices of inputs across many sectors at a time when the global demand scenario is bleak.

After touching a record 6.7 per cent of gross domestic product (GDP) in the third quarter of 2012-13, CAD fell to 3.6 per cent in the fourth quarter of the financial year. As such, CAD was a record 4.8 per cent of GDP in 2012-13 against 4.2 per cent a year ago.

Even the so-called green-shoots are not visible as signs of a recovery look distant. After economic growth slipped to five per cent in 2012-13, industrial growth stood at two per cent in April 2013 despite a low base of (-) 1.3 per cent a year ago. According to a report by Crisil, foreign multi brand retailers are unlikely to make significant investments in India over the next two to three years.

As for FDI inflows, during the period January-April, they touched $7.8 billion, up one per cent from a year ago, a statement from the ministry of commerce and industry said. Industry does not seem to be much enthused now that the government is planning an overhaul of FDI policy. They feel the government is "rushing through" the process, which might hamper Indian industry in the long run.

The story on the exports front looks very grim as well. During April-May of this financial year, exports grew by a mere 0.21 per cent to $48.7 billion from $48.6 billion in the previous year.