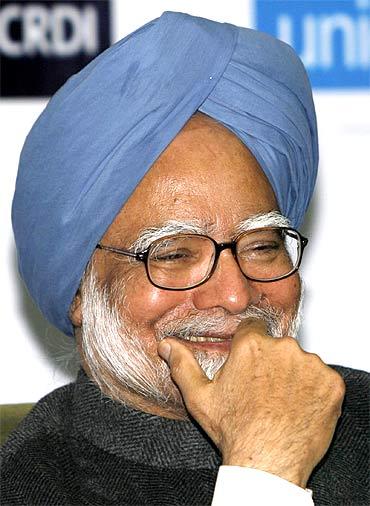 Attributing price rise to global factors and higher Minimum Support Price (MSP), Prime Minister Manmohan Singh on Wednesday said the government has tried to protect the interest of poor people by maintaining supply through the PDS system.
"It is true prices rose but it is because of international prices. We also gave reward to farmers in terms of remuneration, this also had consequences," he said during a press conference after the release of Congress manifesto for the upcoming general elections.
The government has ensured that price rise did not affect the poor people as supplies were maintained through a Public Distribution System (PDS) system, he added.
In order to encourage agriculture sector output, the UPA government had several times increase Minimum Support Price (MSP) for key farm commodities, like wheat, paddy and sugarcane.
Although the WPI inflation which has crossed double digits fell to a nine month low of 4.68 per cent, the retail inflation still remained elevated at 8.1 per cent in February.
The Congress manifesto said that if voted to power, the government would continue to take firm action to control inflation, difficult economic scenario notwithstanding.
It further added, "In a developing economy, we must accept that when our aim is high growth, there will be moderate level of inflation. Reserve Bank must strike a balance between price stability and growth while formulating monetary policy."
While listing the achievements of his government, the Prime Minister said: "The UPA tenure was superior. People ask what is our record. I say Congress record is visible to those who want to see. We provided the agenda for growth".
Singh further said UPA performed better than the previous NDA and specifically cited the growth in agriculture sector, industrial sector and poverty reduction as examples.
While the previous NDA regime posted a growth rate of 6 per cent, the growth in UPA I was 8.4 per cent and in UPA II 7.3 per cent. "So we delivered more growth than our opponents."
Similarly, he added industrial and agricultural growth too was higher during the UPA regime. He said poverty has declined by 2.18 per cent during the last years, as against 0.7 per cent between 1993-2004.
India needs more investment and more emphasis on job creation, he said. The Congress manifesto proposes to raise the economic growth to 8 per cent in the next three years and create 10 crore jobs.
Insisting that the country had witnessed the fastest economic growth during the last 10 years, he hit out at BJP's Prime Ministerial candidate Narendra Modi's model of development in Gujarat.
"Development has many models. One hears these days about Gujarat model of development. Congress model is one which recognises that the growing economy provides answers to all concerns," he said.
"Growth by itself is not enough to achieve solid results of inclusive progress. It needs to be backed by education, healthcare and needs of women, SCs, STs and OBCs," Singh said.