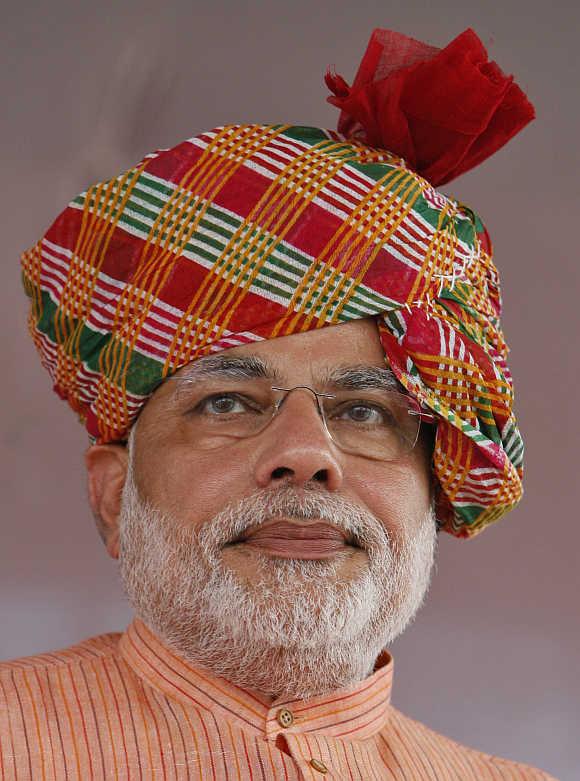 With the Aam Aadmi Party targeting him, Narendra Modi on Wednesday claimed that political parties were getting together to prevent him from coming to power in the Lok Sabha elections and called the fledgling party as the 'B' team of Congress.
"There have been elections earlier also in which opposition parties would come together to defeat the government. But this is the first election in which alliances are being built to prevent Modi from coming to power," he said addressing a BJP meeting in East Delhi.
Attacking the Aam Aadmi Party, whose leader Arvind Kejriwal he had targeted in Jammu in the morning, Modi said AAP is the 'B' team of Congress.
It quit Delhi government to "help" Congress across the country with its campaign, he said days after Kejriwal had toured Gujarat and attacked his government's development claims. Kejriwal has also decided to take on Modi in Varanasi Lok Sabha constituency.
"This is a unique alliance between Congress and Congress-B. First run the government with Congress support and then resign to help Congress across the country with your campaign. It (AAP) also allowed Congress to run Delhi by back door through the Governor.
"Despite being routed in (Delhi assembly) election, Congress is back to power through the Governor. This is the 'B' team of Congress. Its aim is to help Congress," Modi said. He alleged AAP lacked commitment to democratic values and its only aim is to help Congress and not the country. The BJP's prime ministerial candidate also dismissed the Congress manifesto released today as full of "lies" and "misleading" with promises which were made in previous elections too but not fulfilled.