C Rangarajan, chairman of the Prime Minister's Economic Advisory Council (PMEAC), talks on the outlook for growth and inflation, with Indivjal Dhasmana. Excerpts:
Where would you have pegged economic growth in 2012-13 against the estimated five per cent, had the incremental capital output ratio (Icor) not risen from the historic level of 4:1?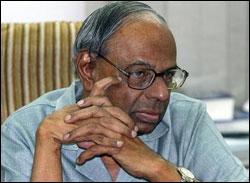 The current investment rate with Icor of 4:1 should yield growth close to eight per cent. As capital was not fully utilised, growth came down. For instance, if power projects are stalled because fuel is not available, this means capital is not fully utilised. Because of this, Icor has risen.
In the current financial year, the PMEAC has pegged economic growth at 6.4 per cent. Does it mean capital will remain unutilised in 2013-14 as well?
If Icor has risen, it has to be slowly brought down. Stalled projects, if cleared, will not give you full results in a year. It takes time.
For the first two years of the 12th Plan, the growth will be way below the Planning Commission's estimates for average annual growth at seven per cent for entire period (2012-13 to 2016-17). Do you see the five-year growth to be significantly lower than the Commission's target?
The last three years of the Plan could yield an eight to nine per cent growth rate. So, the full period could yield close to an eight per cent average rate. In the concluding year, the growth could be even higher. The terminal year could yield nine per cent.
You projected the current account deficit to be 5.1 per cent of GDP for 2011-12 and 4.7 per cent for 2013-14. This is way above the 2.5 per cent which you recently said should be a desirable level. When do you think we would be seeing that level of CAD?
Wait for a few years. Just as the fiscal consolidation plan seeks to bring down the fiscal deficit over five years, reducing the CAD would also be over a period of time.
You forecast the Wholesale Price Index-based inflation to come down to an average rate of six per cent in the current financial year, from 7.3 per cent in 2011-12. When could one expect inflation to fall to a comfortable level?
Right now, we see inflation at an average of six per cent in 2012-13. It is difficult to forecast what the monsoon would be like. The comfortable level is four to five per cent. Our effort should be to bring it down to five per cent.