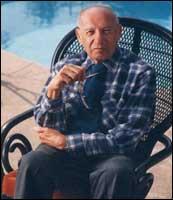 Peter F Drucker, known as the 'father of modern management', died at his home in Claremont, California on Friday.
Drucker was considered a visionary for making management a field of study and his recognition that dedicated employees are key to the success of any organisation, a concept that he began proposing during the 1950's.
His work spanning over seven decades has helped many corporations and educational institutions across the world.
A journalist, teacher and business consultant, Drucker has authored more than 35 books. According to him, "Management deals with people, their values, their growth and development, social structure, the community and even with spiritual concerns."
His motivational techniques were adopted by some of the biggest companies in the United States, including Intel Corporation and General Motors.
In 2002, Drucker was awarded a 'Presidential Medal of Freedom'. He is also known as the proponent of the 'management theory' and concepts of privatisation, and decentralisation.
Born in Vienna in 1909, Drucker studied law in Germany before moving to London, and later to the United States. In 1945, his book, "Concept of the Corporation," based on a two-year study of General Motors, became an instant bestseller.
Business Week magazine hailed him as "The most enduring management thinker of our time," Drucker is survived by his wife, Doris, four children and six grandchildren.