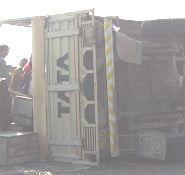 Insurance companies now offer to cover funeral expenses under health and personal accident policy.
Although there is no standalone product to cover funeral expenses, these are covered as an extension to personal accident cover, which insures permanent total disability arising out of accidental injury.


Generally, this is part of micro insurance policies. To meet rural and social sector obligations, insurance companies sell these policies. Most companies offer this product to people, specially living in rural areas.


While some companies charge a small premium for the policy, others like Future Generali offer it free. Most companies have capped the benefits at Rs 10,000 or one per cent of the sum assured. For a sum assured of Rs 1 lakh on personal accident, an insurer charges Rs 60-80 on good risk.


"There is no need for opting for it separately since it is a part of the health product. Personal accident is an important segment and it comes as an additional benefit. The benefit is available with not just micro insurance products but any policyholder having a personal accident cover can claim Rs 10,000 as funeral expense," said Krishnamoorthy Rao, managing director and chief executive officer, Future Generali.


Bajaj Allianz charges a meager Rs 5 more on personal accident cover to cover funeral expenses. It offers Rs 10,000 or one per cent of the sum assured, whichever is higher at the time of need.


"The product is sold through NGOs (non-governmental organisations). The basic demand is for personal accident cover and so, we have added a rider of up to one per cent of the sum insured as funeral expense," said Ashok Patil of Bajaj Allianz General Insurance.


Bharti AXA General Insurance has tied up with microfinance institution Arohan to sell such products. "This is specifically meant for rural customers. We pay claim through electronic fund transfer so that the claims are processed fast," said Bharti AXA General Insurance Chief Executive Officer Amarnath Ananthanarayanan.


Overseas insurance companies offer standalone funeral expense cover. There are a few companies offering it under a protection plan. "In South Africa, this is the most selling micro insurance product. Companies sell standalone funeral expense product," said Ananthnarayanan.