Pakistan is exploring possibilities for import of auto fuels like petrol and power from India, a senior Pakistani diplomat today said.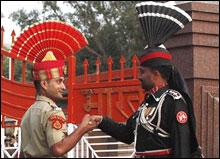 While Pakistan had last year allowed import of diesel from India, petrol still continues on its negative list. Islamabad is considering taking petrol off the list to get fuel from across the border. Also, it is looking at buying electricity to meet its widening energy deficit.
"It (talks of importing electricity and petroleum products) is at a technical stage, discussions are going on," Pakistan high commissioner Shahid Malik said in New Delhi.
Malik said that the technical experts from both sides are talking to each other as to how to take it forward.
Petroleum, electronics, telecom, information technology and IT-enabled services are some of the potential sectors for bilateral cooperation after Pakistan grants most-favoured nation (MFN) status to India.
"Pakistan will grant India the MFN status by this year-end. This will pave way for a direct, comprehensive and broad-based economic engagement," the High Commissioner said during an Assocham event.
Pakistan has recently notified its negative list for India, which means barring 1,209 items, New Delhi can now export all products to the neighbouring country.
The negative list contains products like automobiles and textiles.
Currently, the two-way trade between the neighbours is pegged at $2.7 billion, which is largely in favour of India. However, the bilateral trade through third country is estimated to be $10 million.
Talking to reporters on possibilities of enhancing the trade ties, Malik said, "There is a lot of potential for trade between the two countries. Why should we involve a third country?"
He emphasised the need of eliminating non-tariff barriers (NTBs) like visa issues which comes in the way of bilateral trade.
"One of the biggest NTBs is denial of visas to Pakistan businessmen. Till the time, Pakistani businessmen won't get visas easily, what will he discuss with his counterpart here (in India).
"I can say without any fear of contradiction that Pakistan High Commission in India, whenever there is any trade related activity or any Indian businessmen want to got to Pakistan, we issue visa in just a day," Malik added.
"We have come from positive list to negative list which is a big step. It doesn't stop here, by the end of this year we are committed that we will move towards MFN status," he added.