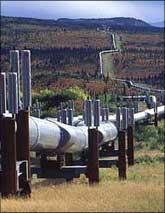 Pakistan and Iran have begun discussions on the engineering and construction of a $1.5 billion gas pipeline, with an Iranian firm set to build the Pakistani section of the venture within 16 months.
Officials of the two countries on Monday began talks in Islamabad on an engineering, procurement and construction contract for the Pakistani section of the pipeline that Pakistan is going ahead with despite opposition from the US.
Iran's Tadbir Energy Development Group will build two kilometres of pipeline a day, completing the 781-km pipeline in 15 to 16 months.
The pipeline will be laid from Gabd on the Pakistan-Iran border to Nawabshah in Sindh province.
The pipeline, expected to be completed by December 2014, will initially bring 750 million cubic feet gas per day and the gas flow could increase to 1 billion cubic feet gas per day later, The News said.
The Iranian delegation for the talks is led by the deputy chief of the Tadbir energy Development Group while the Pakistani side was headed by the Petroleum Secretary.
The talks will fine-tune the terms of references, scope of work, and cost of laying the pipeline under the proposed contract. The gas from Iran will be provided to Pakistan's power sector to generate 4,000 MW of electricity.
When gas imports touch 1 bcfd, electricity generation will increase to 5,000 MW. When gas replaces furnace oil that is currently used by power plants, Pakistan will save about a billion dollars a year.
According to a Pakistani official, Islamabad has handed over the design of the pipeline to officials of Tadbir Group, which has already started constructing the pipeline in Iran.
"We have discussed the scope of work and the engineering methodology under which the Iranian company will lay the pipeline in the territory of Pakistan," the official said.
There are bridges, compressors stations and related facilities that have to be constructed while laying the pipeline, the official said.
Both sides will also discuss the financing of the project and a loan of 500 million dollars that Iran has offered to complete the pipeline.
The official said Pakistan will discuss the interest rate at which Iran will offer the loan and its repayment schedule as well as the price of every kilometre of the pipeline.
According to officials, the cost of building the pipeline on the Pakistani side is estimated at $1.5 billion. Of this, $500 million will be provided by Iran while Pakistan will have to arrange the remaining amount.