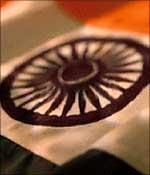 As it grapples with the growing influence of China, India is learning to reinvent its friendships with Japan and South Korea and position itself as a democratic counterpoise in the wider south-east Asian community.
But even as Prime Minister Manmohan Singh plans to visit Tokyo for his annual summit from October 25-27 -- as part of a journey to Hanoi and Kuala Lumpur -- and hopes to sign a landmark civil nuclear pact with his counterpart, Naoto Kan, Japanese resentment against India's nuclear ambitions continues to simmer.
It has now come to light that India's ambassador to Japan, H K Singh, did not attend the anti-nuclear ceremonies at Hiroshima and Nagasaki this year, despite the fact that UN Secretary General Ban Ki-moon flew in from New York to attend.
The ambassadors of the US, Britain and France, all victors in the Second World War, were present.
Along with Singh, conspicuous by his absence at the ceremonies was China's ambassador to Japan.
Considering India refused to retaliate when Japan cancelled its annual $1-billion Official Development Assistance when New Delhi went nuclear in 1998, instead saying it understood Tokyo's actions as the 'only country in the world to have been the victim of a nuclear bomb,' its current insensitivity towards the victims of Hiroshima and Nagasaki seem particularly out of place.
This also comes at a time when New Delhi's stakes in Tokyo are rising exponentially every year. Besides the civil nuclear pact, both sides hope to finally sign an Economic Partnership Agreement, for which Commerce Secretary Rahul Khullar will undertake final discussions during his visit to Japan from September 7-9.
As it seeks to counter a rising China, India hopes to cement a sluggish friendship with Seoul, and is sending Defence Minister A K Antony to South Korea on September 1.
This will be the first-ever visit by an Indian defence minister to that country and he is expected to sign a wide-ranging memorandum of understanding on defence cooperation.
The PM will also travel to Seoul for the G-20 visit in November, when the grouping is expected to announce India's enhanced stakes in global financial organisations, such as the International Monetary Fund and the World Bank.
India's keenness to expand ties with both South Korea and Japan comes at a time when China's rising power is increasingly on Delhi's mind.
The latest incident is the diplomatic row over the Chinese denial of a visa to India's northern army commander, B K Jamwal, in charge of Jammu and Kashmir, but officials in the Ministry of External Affairs say the issue of stapling visas on the Indian passports of the residents of J&K, as well as the refusal of a visa to an IAS officer from the Arunachal Pradesh cadre are 'part of the same game-plan'.
On its part, ministry officials say, India is 'diplomatically courting' the wider region. About a month ago, Foreign Secretary
Nirupama Rao took a meeting of all India's ambassadors and high commissioners in South Asia in Yangon, the former capital of Myanmar.
Present at the meeting were also the ambassadors of China and Japan, and as planned, China's burgeoning influence in South Asia was one of the chief topics of discussion.
The venue for the meeting -- a country where India and China are competing for both economic resources, especially oil and gas, as well as political influence -- is direct proof, if any was needed, that New Delhi believes that South-East Asia has become the 'newest battle-ground of ideas' with its main rival, China.
Clearly, India seems to be taking several leaves out of China's success stories in the region, but none are more important than the use of economics to pursue diplomatic intent.
The India-Japan economic partnership agreement, for example, comes in the wake of a free trade agreement between India and South Korea signed this January, and is expected to push currently lowly annual trade at $10.4 billion.
Sino-Indian trade already touches $60 billion, even though the trade basket is heavily weighted in favour of raw materials, such as iron ore, from India.
The EPA has overcome a major sticking point in the manufacture and sale of pharma drugs and agreed to trade in goods -- as many as 9,000 products, from steel and apparel to machinery -- but it is an agreement on trade in services that remains to be resolved.
Accounting for about 55 per cent of the gross domestic product, exports from India's services sector were valued at $93.7 billion in 2009-10.
One continuing disagreement over Indian health care workers, especially nurses, working in Japan, is an example of how social norms are hampering the conclusion of an agreement that could otherwise be beneficial to both countries: Japan continues to argue that all foreign workers must pass an exam in Japanese that is said to be exceptionally tough, even though its ageing society needs continually large investments in health care.
Indonesia, the Philippines -- and now India -- have offered to send nurses, but the decision to hire foreign workers stems from a national unwillingness to use outside manpower.
Still, as Japanese Foreign Minister Katsuya Okada publicly concurred with External Affairs Minister S M Krishna during his recent India visit, the decision to reinvent the G-4 bid for permanent membership of an expanded Security Council could at least bring both establishments -- along with Germany and Brazil -- closer together.
India will likely be elected as a non-permanent member of the Security Council in 2011 from the Asia seat, but it is keen to revive the G-4 debate that was pushed into the background these last years as a result of the blooming Indo-US camaraderie over their nuclear deal.
China, of course, was a major opponent of that nuclear deal even though it fell in line at the bitter end -- meanwhile, memories of Jawaharlal Nehru turning down a US invitation in 1954 to become a permanent SC member, and suggesting that India's 'brotherly neighbour' China be given the seat, are being dredged up again these days in New Delhi.
India is also hoping that when US President Barack Obama visits in November, he will openly voice his support for an Indian seat at the Security Council high table.
Meanwhile, in New Delhi recently, Okada and Krishna also agreed that India and Japan would work much more closely in Africa, so as to jointly push the continent's 53 nations to vote in favour of the G-4 idea in the General Assembly.
No prizes for guessing which Asian nation is topmost in Africa's consciousness these days -- China.