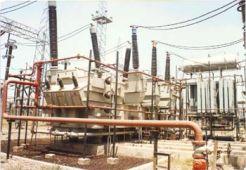 The power ministry will soon put up a proposal to the Union Cabinet for compensating state-run NTPC, whose upcoming 600-MW hydro-power project at Loharinag Pala in Uttarakhand was scrapped recently by the government over environmental issues.
The company is estimated to have committed around Rs 2,000 crore (Rs 20 billion) on the project, which has been rendered futile on account of the project being scrapped.
The power ministry has got an assurance from the government that its company will be duly compensated.
"We have to prepare a proposal for the approval of the Cabinet for compensating NTPC (whose project has been scrapped).
The government has assured us that all the expenditure incurred by the company on the project would be compensated," Power Minister Sushilkumar Shinde told reporters at an ICC Energy Summit.
Admitting that NTPC has already spent around Rs 650 crore (Rs 6.5 billion) on the project, Shinde said, "The entire expenditure after taking into account the already placed orders and other running expenses would come to around Rs 2,000 crore (Rs 20 billion)."
On Friday last week, a group of ministers had decided to scrap the hydel project on the Bhagirathi river in view of religious sentiments and environmental concerns.
Headed by Finance Minister Pranab Mukherjee, the GoM did an in-depth review of the project and recommended that the hydro-power dam, work on which had been suspended for some time, should be scrapped.
Two such hydro power projects on the Bhagirathi river -- the 480-MW Pala Maneri and 381-MW Bhairon Ghati hydel projects -- proposed by the state government have already been scrapped by the GoM.