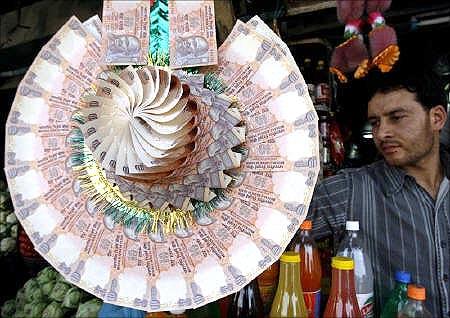 The sharp fall in the rupee's value against the dollar during the July-September quarter, it turns out, has come as a boon for corporate earnings.
The net sales of Nifty50 companies, excluding banking, financial and oil marketing ones, have risen over 20 per cent on a year-on-year basis and 16.68 per cent sequentially.

Their operating profit in the September quarter has been 19.95 per cent more than in the year-ago period and 14.12 per cent higher than in April-June.
There might not be anyone expecting earnings upgrades for corporate India yet, but this seems to indicate the period downgrades could be over, as both government spending and the rupee are likely to continue to support earnings growth in the foreseeable future.
Edelweiss Securities CEO Vikas Khemani says: "The first quarter was a washout, but we expect the third and fourth ones to be similar to the September quarter. I think the earnings downgrade cycle is behind us."
The weak-rupee benefits have not been limited to the IT and pharmaceutical sectors, for which export earnings account for the bulk of revenue.
Other companies with either a sizeable portion of sales coming from exports or those with foreign subsidiaries have also been helped.
Government spending is also seen as a major cause for the sales growth spike. During the January-March quarter, the government had sharply pulled back spending to meet its fiscal deficit targets. This had not only pulled down the overall economic growth rate but also eroded the earnings of companies during the first quarter of this financial year.
Emkay Global's Dhananjay Sinha says, apart from the rupee's fall, the return of government spending has also positively impacted sales growth in the second quarter. This should continue over the next couple of quarters, as the country has already entered the election phase and a cut-back in government spending now might adversely impact sentiment. Also, the rupee is likely to remain between 60 and 63 a dollar, continuing to boost export earnings over last year.
Some experts, however, say not much should be read into the headline sales growth numbers, as companies continue to see demand pressures due to the slowdown. Saurabh Mukherjea, CEO (institutional equities), Ambit Capital, says: "A weak rupee tends to benefit Nifty companies more, even if the gain is minor."
A large part of the gains seen at the top line and operating level vanished at the net profit level. Compared with last year, costs have spiked and the sharp fall in the rupee has also pushed up input costs for a majority of companies.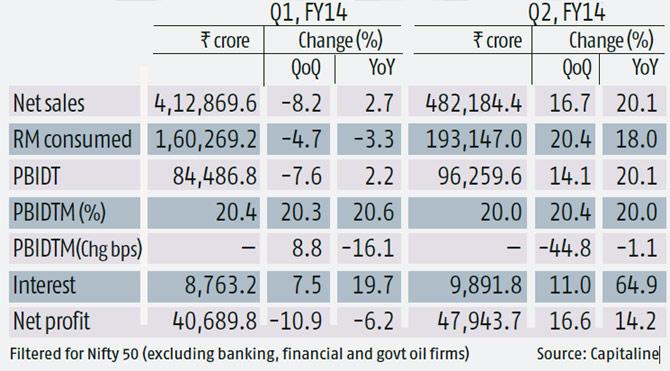 Firms have not been able to pass on the cost-push to consumers. This has also impacted the overall profitability. Raw material costs have risen, both sequentially and annually.
But interest costs have done damage to companies' bottom lines the most. Interest costs have risen 64 per cent compared with last year and 11 per cent against those in the first quarter.
Manish Sonthalia, senior vice-president & head of equities PMS at Motilal Oswal Asset Management, says: "What pegged back margins a bit was the increase in other expenses, such as advertising and promotions. In a slowing economy, companies have had to increase their marketing budgets." This has certainly impacted earnings.
However, even after factoring in higher costs, the net profit of Nifty 50 companies, excluding public-sector oil marketing companies and banks, has grown 14.17 per cent on a year-on-year and 16.64 per cent sequentially.

If one breaks up the sales growth between volume growth and value-led growth, most companies have held on to the volume growth seen over the past three quarters, while realisation trends have been mixed. Some companies like Infosys, ACC, Ambuja Cements, Hero MotoCorp have even increased this metric since the December 2012 quarter.
ITC, too, continued to enjoy strong pricing power: A four per cent fall in cigarette volumes was more than offset by a 15 per cent gain in realisations. Hero MotoCorp, the volume growth for which had been falling for the past three quarters, saw a reversal in trend.
Its volumes grew six per cent in the September quarter, driven mainly by better rural demand. Ambuja Cement witnessed a similar trend and reported volume growth of two per cent, after three straight quarters of decline. Ambit's Mukherjea, however, does not expect any significant turnaround in Indian companies' performance going forward. He says: "We do not see volume growth of FMCG companies returning to double digits anytime soon."
Sector play
IT companies saw good volume growth during the quarter, but margin expansion was restricted, as companies reinvested rupee gains to fuel future growth. Management commentaries remained positive for most companies, though December quarter is seasonally weak for the sector and could see some pressure due to fewer working days.
Driven by a strong show in its US operations and the rupee's depreciation, Sun Pharma, Lupin and Dr Reddy's delivered better numbers than expected. New product launches, market share gains and niche product basket in the US helped improve revenues. Ranbaxy and Cipla disappointed on most counts. Sun Pharma had the highest rate of domestic sales growth among the Nifty pharma companies.