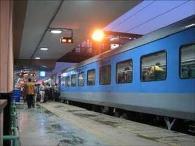 The Rail Coach Factory in Kapurthala on Friday rolled out 15 coaches for Duronto Express, which will enable passengers experience a jerk-free train ride for the first time.
The first rake has a new type of centre-buffer coupler, which joins the two bogies, with special focus on reducing jerks.
The 15 coaches are fitted with tight-lock couplers, imported from Sweden, to ensure smooth and comfortable ride on Duronto train which will soon run on the Mumbai-Secundrabad section, Chief Mechanical Engineer Charanjit Singh said.
There was a general complaint of spilling of meals during journey due to jerks, said RCF Chief Design Engineer Ravi Kochak who worked to overcome jerks in Shatabadi, Rajdhani and Duronto trains.
Kochak noted these coaches would reach Secundrabad in three days and would be put on trial by the Research Development and Standard organisation for two to three weeks before bringing it into service.
He disclosed RCF will roll out another nine jerk-free coaches within next few days and send the same to Secundrabad.
The Chief Design Engineer said railway officials, who tested it during its journey from here to Secundrabad, on Friday confirmed the ride in these
coaches was "very smooth and comfortable as compared to the coaches of Shatabdi and Rajdhani trains".
RCF has imported these tight-lock centre-buffer couplers from Sweden to ensure smooth ride on Shatabdi, Rajdhani and Duronto trains.
The factory imported 60 couplers with double cushion and fitted on both ends of the coach as these couplers help in attaching the coaches.
Kochak said these couplers are being used in the high speed trains in abroad and tested by Research Development and Standard organisation in Sweden.
He said bumpy ride is mainly attributed to large number of coaches attached to one train.
If, the experiment proved successful then the old couplers of all the Shatabdi and Rajdhani trains would be replaced with the new design, Kochak said.
Explaining the feature of double acting couplers with cushion materials on both sides, Kochak said during the acceleration of speed or brake by trains these couplers could absorb the jerks due to its double cushion and would also help in minimising the effect of an accident on the passengers.
He said the cost of one coupler is Rs. two lakh and two couplers are fitted on both the ends one coach.
Dellner Company of Sweden, which supplied these couplers, has set up a plant in the Chennai for delivering these couplers.