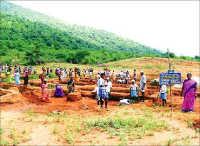 Even while the UPA Government is pushing for two more flagship programmes of food for all and medicines to all, its first flagship programme of the Mahatma Gandhi National Rural Employment Guarantee Act (Nrega) is losing steam.
More than 40 per cent of the Rs 40,000-crore (Rs 400 billion) budget sanctioned for it during 2011-12 remained unspent until December, prompting the Finance Ministry to propose a reduced budget for it in the next fiscal.
The programme has also failed in its target of providing a guaranteed employment of 100 days in a year to one person per family.
It is rather declining year after year, from 54 days in 2009-10 to 47 days in 2010-11 and just 32 days in the current year until December.
The Centre blames the states for non-utilisation of the Nrega funds, while the states put the blame on delay in release of the allocations. The Rural Development Ministry sources say the funds cannot be released unless the state government furnishes audited use of the previous allocation.
The programme is already mired into corruption like fake muster rolls, rampant irregularities, payments to ghost workers, job
cards issued at a price and bribes taken by the panchayat heads through whom the funds are distributed.
Even after its implementation for so many years, the programme has failed to cover the intended beneficiaries. Only last week a committee headed by Planning Commission member Mihir Shah said the programme should be linked to asset creation and agriculture and not just digging of pits.
Notwithstanding all these pitfalls, the Ministry of Statistics and Programme Implementation has issued a directive to all district collectors for convergance of the Member of Parliament Local Area Development Scheme with Nrega to allow the MPs release funds for works taken up under the programme.
A notification issued by it recently, however, makes it clear that the MPs may recommend funds from the MPLAD only for creating more durable assets and that too for works from the shelf of projects approved by the district panchayat.
The funds so allotted will be used only for the material component since the wages are paid from the Nrega sanctions.
It has been made clear that the guidelines of Nrega like no contractors, no use of machinery and social audit shall be strictly applied to any such works funded by the MPs.