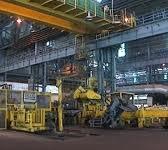 Shares of Nalco plunged over 8 per cent on the Bombay Stock Exchange in the early trade on Friday as the government's up to 10 per cent stake sale of the PSU firm commenced on the bourses.

The floor or the minimum offer price for Nalco's share sale has been set at Rs 40 apiece, which was a 10 per cent discount to Thursday's close of Rs 44.65.

On the BSE, Nalco scrip hit a low of Rs 44.50, down 8.36 per cent over previous close, soon after the start of market hours. It continued to trade in the range of Rs 40.55-41.90 in the early hours, higher than the base price.

At the floor price of Rs 40, a 10 per cent stake sale in Nalco could garner around Rs 1,031 crore (Rs 10.31 billion) to the exchequer.

The Empowered Group of Ministers on disinvestment, headed by Finance Minister P Chidambaram, had on Wednesday cleared stake sale of 25.77 crore shares, or up to 10 per cent, in Nalco through the Offer For Sale.

The government is selling 5 per cent stake, with an option to retain another 5 per cent of the over-subscription.

The
number of shares on offer is lower than what the Cabinet Committee on Economic Affairs had approved for in September last year.
The CCEA had cleared a 12.5 per cent stake sale in the Navratna PSU.
The Department of Disinvestment has held roadshows in Singapore, Hong Kong, Japan, the US and the UK last month for disinvestment of the state-run aluminium company.
At present, the government holds 87.15 per cent stake in Nalco.
The stake sale was deferred in November last year as the government wanted to wait for the company's third quarter earnings to get a better valuation.
Nalco posted a more than two-fold jump in its October- December quarter net profit to Rs 118.94 crore (Rs 1.18 billion), on the back of improved sales.
The company had a profit of Rs 51.22 crore (Rs 512.2 million) in the same period last fiscal.
Enam Securities, SBI Caps and IDFC are merchant bankers for the Nalco share sale offer.
The government estimates to collect Rs 24,000 crore (Rs 240 billion) from disinvestment in the current fiscal and has already raised over Rs 21,800 crore (Rs 218 billion) so far.