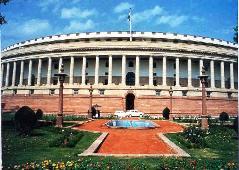 The Finance Ministry will prepare a Cabinet note on framework of the Exchange Traded Fund for state-owned companies with a view to attract investment and also promote government's disinvestment drive.

The Department of Disinvestment, which is the nodal department for carrying out PSU stake sale, will finalise the cabinet note after appointment of asset management companies to handle PSU ETF.

"The DoD is in the process of coming out with fresh guidelines for appointment of AMCs to manage PSU ETF. After the appointment, the DoD will draft a fresh Cabinet note for floating the fund," official sources said.

Setting up of PSU ETF is expected to give a push to the government's disinvestment programme.

The government is likely to raise the disinvestment target to Rs 40,000 crore (Rs 400 billion) in 2013-14 from Rs 30,000 crore (Rs 300 billion) in the current fiscal.

Sources said after discussion of AMCs and meeting of the Empowered Group of Ministers on disinvestment, the final composition of PSU ETF will be decided.

The Cabinet note would seek response of various administrative ministries about the proposed fund.

The PSU ETF will serve as an additional mechanism for the government
to monetise its shareholdings in those CPSEs that eventually form part of the ETF basket.
At the pre-bid meeting of the AMCs and the DoD officials, various issues were raised by the AMCs relating to cost structure and non-compete activities.
Sources said the DoD is likely to relax some of the rules for making it easier for the AMCs to bid for managing the ETF.
The DoD had in January invited proposals from mutual funds with at least five years experience and having equity assets of over Rs 2,500 crore (Rs 25 billion) for managing the ETF.
The fund houses would be responsible for conducting roadshows for the share sale through ETF.
The PSU ETF would comprise shares of various profitable state-owned companies.
The composition of ETF and weightage of the shares of individual PSU in the index would be decided by the EGoM.
An ETF benchmarks itself against an index but trades like a stock in an exchange.
ETFs were introduced in India in 2001. Currently, there are 33 ETFs having AUM of close to Rs 11,500 crore (Rs 115 billion) and held by 620,000 investors.
Gold ETFs dominate ETF market in India.
Globally, ETFs have been growing at a rapid pace with an annual growth rate of over 34 per cent in the last decade, with Assets Under Management of $1.5 trillion at present.