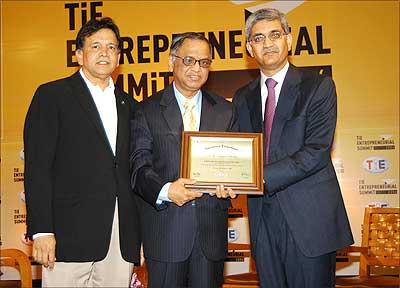 A discussion between Infosys Technologies co-founder N R Narayana Murthy and NDTV boss Prannoy Roy sounded utterly irresistible. Naturally, when the opportunity to attend the event at The Indus Entrepreneurs (TiE) Summit 2006 held in Mumbai's Grand Hyatt came forth, I just lapped it up.
And how right the decision was! It was a lifetime experience -- something I will cherish for years.

As the down-to-earth IT legend, (who, as he told me at the end of the event, does not carry his business cards) clad in a formal pin-stripe suit, walked on to the podium, some invisible force had the audience on its feet -- a standing ovation was the least they could offer.
As Murthy and Roy settled for the chat, the hushed silence in the audience was pregnant with expectation.

If Murthy was at his simplistic best, Roy's sharpness never let a single opportunity go to question the icon.

The very first thing that Roy asked Murthy had the audience roar in laughter: "What happens to all the money?"
"I buy books worth Rs 30,000 to 40,000 a month," said Murthy without wasting a second. "I also buy electronic gadgets. . . My folks are in the process of hoarding the latest versions as soon as they hit the market," he added. A large part of Infosys earning would go into charity soon, Murthy added.

"Not doing the Bahamas?" came the next volley from Roy. This time too Murthy was at his spontaneous best: "I am moving from here to there all the time and, therefore, for me, geography (read Bahamas) does not matter."

Thereafter, Roy deftly moved on to the much-expected subjects of IT, the administration of Infosys, its failed relationship with GE and so on. But he always sprinkled his personal touch all over, keeping the conversation alive all through.

As the audience hogged tiny details like how Murthy used to distribute money among beggars and how he used to regularly borrow from his wife, Roy kept doing his work -- never skipping a chance to ask Murthy about how he managed the administrative loopholes in Infosys and how he stepped aside for Nandan Nilekani, the current Infosys CEO and managing director.
 
Recounting the unpleasant experience following Infosys' snapping ties with General Electric, Murthy said that he "could not afford to be perturbed just as parents of an ailing child cannot be visibly upset. It was a difficult time for Infosys and I had to stay calm."

Talking about his understanding of the value system, the Infosys mentor said that though he did not understand much of politics, he knew one thing for sure, "a murderer, or a criminal for that matter, cannot and should not be in the Cabinet."
Like always, Murthy dwelt on the power and vigour of youth and how important it was to instil confidence in them. A loud 'wow' from the audience was all one could hear as Murthy recalled how he had chosen Mohandas Pai (chairman, Infosys BPO and member of the Infosys board) for Infosys after the latter threw some "truly brilliant questions" from the audience attending a panel of which Murthy was a part.

Nothing, it seemed, perturbs the Infosys boss more than the lack of confidence in youth. On his visit to a school in Jaipur a few days back, it disturbed him a lot to hear children answering his questions (which he asked in English) in Hindi.

To help them gain confidence, Murthy conducted a press conference in his faulty Hindi. "I messed up the gender and grammar completely," he grinned. However, his mission was accomplished. "For, post-conference, the same children came up to me and started chatting in English!"

During the question-answer session with the audience when a lady asked when would we see him in Parliament, a determined Murthy did not wait for a second in stating: "I have no desire to join politics."

But neither the audience nor Roy were willing to take 'no' for an answer. "A time may come when your personal desire would have to make way for the society's desire," stated Roy.  And the audience applauded in approval. To Roy's cue: "What post would you like to see him in?" "President!" was the unanimous answer.
As the TiE event drew to a close, the organisers announced cocktails and snacks on offer, but no one seemed to be heading towards that direction. Instead they rushed to the centre of the podium, to shake hands with the IT titan.
For the record, the IT legend was presented with the TiE Entrepreneurship Award on the occasion.

Here was an evening to remember -- a delightful experience to take back home!
Photograph: N R Narayan Murthy, co-founder and chairman of the board, Infosys Technologies, gets TiE Entrepreneurship Award from Apurv Bagri (right), chairman, TiE Global, and Shridhar Iyengar (left), president, TiE Global.