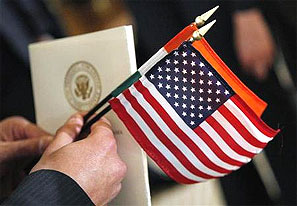 External Affairs Minister Salman Khurshid, who arrived in New York on Monday, assured members of the Indian National Overseas Congress that concerns of the Indian Americans regarding issues relating to visa, passport and OCI cards will be addressed soon by the Government of India.

The minister had an hour-long meeting with the members of INOC headed by its president Shudh Parkash Singh at New York Plaza hotel on Monday evening.

The minister, who is in New York to attend high-level meetings of the UNGA, assured INOC that while he was aware of some of the concerns of the non-resident Indians, he did not know the extent of the problems and that the government will address the issues as soon as possible.

"Basically, we told him about the delays in granting visa and passport.

"Ever since the Consulate has outsourced the services to private companies in New York, it is taking more time than in the past and that creates a problem for the NRIs here,"
Singh said.
The minister however, assured to look into the matter and get back to us, he added.
"The minister was aware of the issue but we explained things in depth and in greater detail and gave our suggestions as well," Singh said.
The government was obliged to INOC for bringing up the issues, Singh said quoting Khurshid.
Khurshid will speak at the high level meeting on Sustainable Development at the United Nations General Assembly Tuesday.
He is also expected to take part in a series of bilateral meetings with his counterparts during his stay in New York.
At a briefing on Monday, India's Permanent Representative to the United Nations Asoke Mukerji said that the EAM would meet with his counterparts from China, Libya, Germany and United Arab Emirates.
Besides, the external affairs minister will address the South Asian Association for Regional Cooperation and Commonwealth Foreign Ministers' meetings as well besides the G-77 meeting and the IBSA (India, Brazil, South Africa) meetings which will be held on the sidelines of the UNGA.