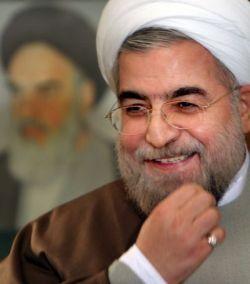 In a major diplomatic breakthrough, the foreign ministers of United States and Iran will hold talks on Tehran's controversial nuclear drive at a landmark meeting on Thursday -- the first between the two states in more than 30 years.
US Secretary of State John Kerry and new Iranian Foreign Minister Mohammad Javad Zarif will join counterparts from Britain, China, France, Germany and Russia at the meeting at the United Nations headquarters, US officials said on Monday.
Moreover, White House officials have not altogether ruled out the possibility of a meeting between US President Barack Obama and his Iranian counterpart Hassan Rouhani on the sidelines of the United Nations General Assembly in New York.
"We are open to engagement with the Iranian government at a variety of levels provided that they will follow through on their commitments to address the international community's concerns over their nuclear program," US Deputy National Security Advisor Ben Rhodes said in New York on Monday.
"Kerry will be meeting with his P5-plus-1 counterparts as well as the Iranian foreign minister, so that's an opportunity for us to reaffirm, together with our P5-plus-1 partners, the importance of Iran coming in line with international obligations," he said.
"But we have no meeting scheduled with President Rouhani, though, as you've heard us say repeatedly, we don't rule out that type of engagement," said Rhodes.
High-level contacts between Iranian and US officials have been rare since the 1979 Islamic Revolution.
The United States, which has spearheaded an international drive to cut Iran's oil exports, has insisted it will not lift sanctions without progress in talks over Iran's nuclear programme, which America fears may lead to development of nuclear weapons.
"We have had a very carefully structured policy both in terms of the sanctions that we put in place on Iran and in terms of how we engage with the Iranian government and the international community on this issue. So this is something that we will, of course, continue to pay very careful attention to," Rhodes said.
Both Obama and Rouhani are scheduled to address the UN General Assembly on Tuesday.
Thursday's meeting will be a milestone between the United States and Iran, which broke off diplomatic relations in 1980 after the overthrow of the late Shah and the taking of US diplomats as hostages.
Obama has said since 2007 that he's willing to engage the leaders of Iran in pursuit of an agreement.
"We will do so if we believe it's in our interests and if we believe it can advance our objectives. Clearly, this is going to take time. You're not going to solve all the issues with Iran in any one meeting or encounter," said Rhodes.
"But what we're signalling is that we're open to engagement generally towards resolving this issue. We don't have anything scheduled between the President and President Rouhani. We do now have Secretary Kerry meeting with his Iranian counterpart as part of the P5-plus-1 process," he said.
Image: Iranian President Hassan Rouhani
Photograph: Reuters