Japanese auto maker Suzuki Motor Corp on Thursday said the Manesar production facility of its Indian subsidiary Maruti Suzuki is in a condition to resume operations but will not do so as safety is yet to be restored.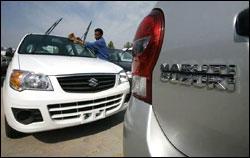 While speaking to reporters after declaring quarterly results, Suzuki Motor Corp (SMC) executive vice president Toshihiro Suzuki said the Manesar plant is "in a condition to resume production" as there was no major damage to the plant machineries during the violence on July 18, in which one senior executive was killed.
Maruti Suzuki India (MSI) had earlier claimed that 100 others employees were injured in the violence, but SMC on its website said "41 people were hospitalised and 46 people were treated in the hospital".
Following the violence and arson, MSI had on July 21 announced an lockout at the plant.
Kyodo reported that the company is still apprehensive of the safety and security of its employees as far as reopening of the plant immediately was concerned.
The plant "is nowhere in sight as safe working conditions have yet to be established", the report said quoting Suzuki.
SMC had earlier said a mob of approximately 100 workers damaged "the buildings of the plant office and the security office" but "there is no heavy damage to the plant facilities".