The Reserve Bank on Wednesday said there is enough liquidity to take care of the lending activities of the banking system.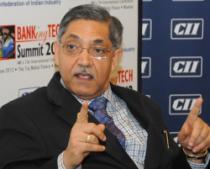 "I think liquidity is okay...whatever is the liquidity, that is adequate and comfortable. This is always monitored," Reserve Bank of India Deputy Governor K C Chakrabarty said on the sidelines of an event organised by Assocham in New Delhi.

In order to ease liquidity situation, the Reserve Bank last month announced infusion of Rs 17,500 crore (Rs 175 billion) by reducing Cash Reserve Ratio (CRR) by 0.25 per cent.

Accordingly, the CRR, or the portion of deposits banks have to park with the RBI, now stands at 4.25 per cent, while the repo rate, at which RBI lends to the system, has been retained at 8 per cent.

The reverse repo, at which RBI absorbs excess liquidity through borrowings from banks, remains at 7 per cent.

Reiterating that high interest rate was not solely responsible for slowdown in economic growth, Chakrabarty, however, said, high inflation has resulted in moderation in growth.

"...what we are trying to say (is) that interest rate is not the only reason for the slowdown in growth. But inflation is definitely a reason for slowing down the growth," he said.

"Slowdown
in the growth is for a variety of reasons. Yes, to that extent monetary policy is not able to control the inflation and not effective, it is responsible. We cannot say something wrong happening in the economy, we are not responsible. Collectively, we are all responsible," he said.
Asking banks not to shy away from giving loans to productive sectors, Chakrabarty said, "When NPAs are high your risk management system has to be improved, your credit appraisal system has to be improved."
"Because of NPA fear, banks need not stop lending but banks must improve their credit management capability for which there is enough scope, he said, adding, banks need to pay more attention to the credit needs of agriculture, SME and retail.
Asked if 7 per cent inflation has become new normal, the Deputy Governor said "...if our economy is getting integrated with the global economy, what is the global average inflation, our inflation cannot be much different from that."
"Markets are getting integrated, economies are getting integrated so you have to look for what is the average global inflation," he said.
"If the average global inflation becomes 7 per cent, then it has to be 7 per cent inflation for us," he added.
Image:
RBI Deputy Governor K C Chakrabarty (Kind courtesy, CII)