The Reserve Bank of India (RBI) has asked banks not to treat Kingfisher Airlines' brand as collateral since it is intangible. This is because the loan has turned non-performing for most of the banks.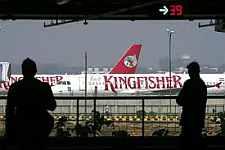 The RBI's rejection means lenders will have to treat their exposure to Kingfisher as unsecured, for which the provisioning requirement will go up substantially.

Loans to the airline have become non-performing for a host of banks, including State Bank of India, Punjab National Bank, Bank of Baroda, Bank of India and Central Bank of India, among others.

Since the loan became sub-standard — the first category of NPA — banks had provided for 15 per cent of the loan value, assuming the asset was secured with the brand being treated as collateral.

According to bankers, the RBI has reminded them that for provisioning purposes, assets backed by intangible securities cannot be treated as secured. For unsecured assets, the provisioning requirement is 25 per cent in the sub-standard category.

"Banks accept a personal guarantee, brand, etc as collateral but those are used for recovery purposes. For provisioning purposes, assets backed by intangible securities are treated as unsecured," said the chairman and managing director of a public sector bank with exposure to Kingfisher Airlines.

Apart from the brand and promoter Vijay Mallya's personal guarantee, certain tangible assets such as Mallya's villa in Goa have been used as collateral.

Kingfisher is still struggling to pay its dues and banks are facing the grim prospect of the asset slipping into doubtful category —
the second level of NPA. Provisioning for an unsecured doubtful asset can be up to 100 per cent of the bank's exposure.
State Bank of India, which had identified the loan as sub-standard in the October-December quarter, has an exposure of Rs 1,400 crore (Rs 14 billion). A sub-standard asset becomes doubtful if the borrower fails to pay the dues for one year. Banks have an exposure of Rs 8,000 crore (Rs 80 billion) to the cash-strapped airline.
Some other banks that have exposure to the airline are IDBI Bank (Rs 727 crore), Bank of India (Rs 575 crore) and Bank of Baroda (Rs 537 crore).  Recently, ICICI Bank sold its entire exposure of Rs 430 crore (Rs 4.3 billion) to a debt fund run by the Kolkata-based infrastructure finance company Srei Infrastructure Finance.
According to a senior SBI official, the lender has provided 90 per cent provisioning on Kingfisher. Other banks are also likely to increase the provisioning requirement following the RBI's intervention.
In 2010, the Kingfisher brand was given as collateral against some loans, which were valued at more than Rs 1,000 crore (Rs 10 billion) at that time. Recently bankers also demanded revaluation of the brand and an agreement was reached between the lenders and the borrowers that it would be revalued after two years.
Lenders will meet the Kingfisher Airlines management on Thursday to know about the carrier's plan to raise equity capital. This will be the first meeting among the banks and KFA management after the aviation sector was opened to foreign airlines last week.