The Kerala government on Tuesday said it would take over the 85.21 acres in the tribal area of Attappadit in Palakkad district where power major Suzlon had set up two wind mills.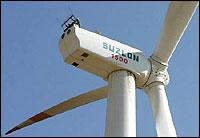 Chief Minister Oommen Chandy said the company had encroached on land of the tribals and the government would take it in its possession and return it to the tribals, with the title deeds and other documents.

Suzlon Energy officials denied any illegality. "We are yet to get an official communication from the Kerala government on the matter.

We need to study it and understand on what basis they have taken the decision before we make any comments," said a company official.

The electricity generated by Suzlon Energy goes to the state's pool. During the reign of the Left Front government, it was alleged that Suzlon had bought the land through forged documents with the support of officials from the revenue department and the land mafia.

The government had ordered
an investigation by the district collector. The collector submitted a report, saying 85.21 acres had been encroached on illegally.
The government had then announced the land would be taken back from the company, but no action was initiated.
The United Democratic Front government continued with the status quo, which led to protests within the Congress party. V D Satheeshan, a Congress MLA, had said the government was cheating the tribals.
The company had set up 20 wind mills in the area, of which two were on the land in question.
After another probe by the chief secretary, the government has decided to take possession of the land those two mills fall in.
Chandy said a decision on whether the two mills would continue to function would be taken later in consultation with the land owners.
There is a proposal to hand over the mills to the Kerala State Electricity Board and share profits with the tribal people. The chief minister said the vigilance probe into the alleged land deal would continue and the culprits brought to book.