Indian wind turbine manufacturer Suzlon Energy has signed its first South African deal for supplying turbines and is in talks with four more clients here.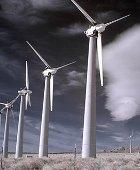 Suzlon is also looking at South Africa as a possible manufacturing base to join the ones it already has in India, China, Germany and Brazil, but chief executive Tulsi Tanti said it was still too soon to provide further details of this.

Tanti was in South Africa to ink the deal with African Clean Energy Developments (ACED) for a proposed wind farm in the small rural town of Cookhouse in Eastern Cape Province.

The deal is conditional to the Cookhouse project developers concluding an agreement to purchase the power generated at the tariffs for renewable energy being offered by South Africa.

Once the power purchase agreement has been signed, the Cookhouse project would take about 12-15 months to complete.

There was great optimism about the Cookhouse project because it is among few to have received the nod from the Ministry of Environmental Affairs.

Silas Zimu, chief executive of Suzlon's South African subsidiary, called the Cookhouse venture "arguably the lead project in South Africa in terms of quality and development timelines".

Tanti said Suzlon was keen to play a part in South Africa's objective of generating 8,400 MW of wind power by 2030 and is in talks with four more clients here.

"South Africa is a rapidly growing economy and a very important market for us. The country has immense wind energy resources and the Government has demonstrated praiseworthy vision and leadership to exploit this abundant renewable resource to power the nation's growth: green jobs, energy generation and inclusive, sustainable growth.

South Africa can install at least 10,000 MW of wind power by 2020, creating at least 20,000 direct and 200,000 indirect jobs," Tanti said, adding that the country's total wind resource potential was enough to power 7 million homes.

The turbines to be supplied for the Cookhouse project would also present opportunities for local manufacturers of the required components, such as towers, while the financing of the venture would include a large broad-based black economic empowerment ownership component.

The ACED deal is for the supply and full EPC for 76 of Suzlon's S88 - 2MW series turbines, with an option for ACED to acquire an additional 124 turbines for the Cookhouse Wind Energy Facility.

Thomas Donnelly, Managing Director of ACED, said, "Suzlon has demonstrated a clear commitment to the South African market, and to local economic development and job creation, two key objectives of the Cookhouse Wind Energy Facility".