Ahead of the Reserve Bank of India's monetary review later this week, the Union government's chief economic adviser, Kaushik Basu, wants the central bank to "think out of the box".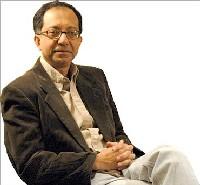 He says its credit tightening is hurting growth, while not having a desired impact on inflation, running over nine per cent for eight weeks in a row till this July.

"There are some pros and cons the RBI needs to keep in mind. The credit tightening, in terms of interest rates - we were expecting that was going to slowdown growth. We were expecting that was also going to slow down inflation. Unfortunately, what seems to be happening is, it is impacting growth and not having sufficient impact on inflation," Basu told CNBC-TV18.

In these circumstances, he said, "it's very important to think out of the box and not be committed to the policy that we have (pur)sued in the past. It has pretty much been a standard policy, that when you have high inflation, you raise the interest rate, you mop up and bob up on credit as much as possible."

Basu cited Turkey, which followed a policy of
low interest rates despite high inflation. "Turkey's inflation in April last year was over 10 per cent and it decided to lower interest rates on a variety of grounds," he said.
Turkey did so, said Basu, because the industrialised world was keeping its interest rates very low, causing a lot of capital flows.
Nevertheless, Turkey's growth went up to surpass even China's in the first quarter of this year, while it was just behind China in the second quarter and inflation also came down, he added. Basu said Brazil moved in a similar direction by lowering interest rates.
RBI has raised policy rates 11 times since early 2010 to tame inflation and will come out with its monetary review on September 16.
Yet, wholesale price-based inflation has been at over nine per cent from December 2010 to July, 2011. The number for August will come tomorrow.
On the other hand, India's industrial and economic growth numbers are coming down. While the economy grew by just 7.7 per cent in the first quarter of 2011-12 against 8.8 per cent in the same quarter of 2011-12, industrial growth slipped to a 21-month low of 3.3 per cent in July.
Image:
Kaushik Basu.