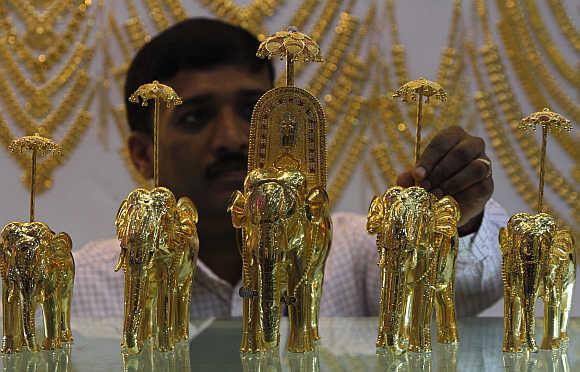 Shares of jewellery makers on Monday fell sharply by up to 20 per cent following dip in global prices of gold.
Gitanjali Gems stock nosedived 19.99 per cent to Rs 405.35, while PC Jeweller fell 8.55 per cent to Rs 89.35. Shares of Tribhovandas Bhimji Zaveri dropped 6.88 per cent to Rs 181.95 on the BSE.
Among others, Shree Ganesh Jewellery House slumped 9.52 per cent, Tara Jewels 2.27 per cent, Thangamayil Jewellery 1.48 per cent and Titan Industries 0.47 per cent.
"Jewellery stocks fell amid gold's bleak future," said CNI Research Chairman and Managing Director Kishor Ostwal. Gold on Monday tumbled by Rs 320 to Rs 27,320 per 10 gm in the national capital.
The sentiment turned bearish after gold fell in global markets on the prospect that reduced monetary stimulus from the US Federal Reserve may spur a stronger dollar and erode demand for a store of value.
In addition, sluggish demand due to off-marriage and festival season amid a weak trend at futures market, where speculators offloaded their positions, also dampened the sentiment.
Gold demand has also slowed in the country following measures taken by the government to curb gold imports.