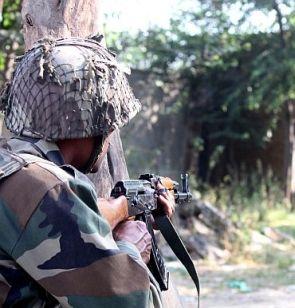 In a major strike on the eve of Prime Minister Manmohan Singh's visit, militants opened fire Monday at an army convoy at Hyderpora bypass on the outskirts of Srinagar, in which five jawans were killed, and 13 others were injured.
The convoy was fired at from both sides of the road near ClassicHospital Monday evening, police said, adding that the militants fired over a dozen rounds.
Militants fled from the spot in a tinted car. A motorcycle, possibly used by the ultras, has been recovered.
Army troops immediately cordoned off the area and a massive hunt has been launched to nab the militants involved in the attack, police said.
Official sources said firing was also reported from the nearby Barzulla area.
Hizbul Mujahideen has claimed responsibility for the attack on army convoy.
A person Baliguddin, identifying himself as spokesperson of the outfit, called up a local news agency and said that Hizbul Mujahideen has formed several squads and similar attacks will be carried out in the city in the future as well.
Monday's attack comes two days after Hizbul Mujahideen militants gunned down two policemen in the heart of Srinagar city.
The brazen attack came even as security has been beefed up across the Valley in view of prime minister's two-day visit.
PMO sources in Delhi said that there was no change in Dr Singh's programme.
The prime minister is scheduled to reach Srinagar on Tuesday along with UPA chairperson Sonia Gandhi on a two-day visit, during which he is expected to announce a package for border districts of Jammu and Kashmir.
Singh and Gandhi will also launch train service on a railway section between Qazigund in Kashmir and Banihal in Jammu region that will provide an all-weather link to the Valley.
With inputs from PTI