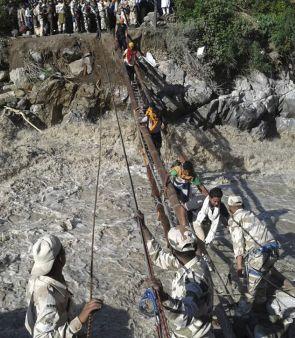 After rains hampered rescue operations, the Indo Tibetan Border Police Monday said it may take another three days to resume the evacuation process of stranded victims in flood ravaged hill state of Uttarakhand.
Most of the people from Kedarnath area have been rescued while there are a few held up at Badrinath, Gangotri and Yamunotri, who are being "slowly evacuated", Director General of Indian Tibetan Border Police Ajay Chadha said.
"We can resume the rescue operations once air sorties can be conducted," he told reporters, adding that the weather was expected to improve by June 28.
He said ITBP personnel have so far recovered 125 bodies, while the NDRF has recovered around 400 so far. "There are about 40-50 sadhus still stuck in the Kedarnath," he said.
ITBP has deployed its Netra UAV in service for search and rescue operations by scanning the terrain in the remote areas of Kedarnath, Bhairav Chotti and Jungle Chotti. There are personnel on the ground to search for any survivor, he said.
"We have ordered two more Netra UAVs from the manufacturers and expect to deploy them once the weather is clear," Chadha said.
The villages in Kedarnath area are completely lost after the landslides, he said.
Road connectivity has been restored in Pithoragarh.
The ITBP team has repaired the route from Badrinath to Hanuman Chatti which is being used for foot rescue operations.
"There are two NDRF battalions aiding the para commandos of the army in Harsil, where a few of the survivors are being housed. They will flown out once the weather improves," the ITBP chief said.
He also said efforts are on to rescue some people left stranded in Bhairon Chatti, where NDRF team is setting up a helipad. The moment it is ready and clouds clear, air rescue will start, he added.
Image: ITBP personnel rescue stranded people across a flooded river in Uttarakhand
Photograph: Reuters