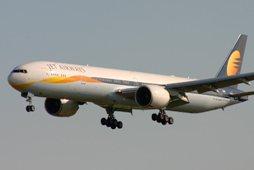 Jet Airways announced on Tuesday that it will launch an additional 'four times a week' flight between Mumbai and Kuwait from June 8 as part of its plans to expand air connectivity to the Gulf region.

"We are happy to introduce this second frequency, four times a week, from Mumbai to Kuwait. The new service will provide seamless connectivity to
passengers from Kuwait flying to our international hub in Mumbai as well as to Hong Kong, Singapore, Bangkok, Dhaka, Kathmandu and Colombo," Jet Airways' chief commercial officer Sudheer Raghavan said.
These additional flights will complement the daily flight being operated between the two destinations by the airline, according to a release.
Jet Airways presently operates 46 daily flights between India and the Gulf region.