Demand for IT in the US is reasonably strong and would see a pick up within months of results of the elections there irrespective of the outcome, Wipro Chairman Azim Premji said on Friday.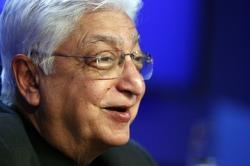 Asked for his outlook on the US market, which accounts for some 60 per cent revenues of Indian software companies, Premji recalled his six-day visit there last month being a part of Business Council of America, a group of 220 CEOs of Fortune-500 companies, and his one-on-one interaction with 40 CEOs.

"Generally, the mood in terms of economic growth, employment growth is more muted that one would have seen
in June", he said.
"But what's running more distinct for the overall economy in the US is IT demand is still holding out. It's not the bumper demand which was there three years back and two years back. But it's reasonably strong," Premji said.
The Bangalore-headquartered, New York Stock Exchange listed company is "cautiously optimistic" on the US market, and said there is no significant cause for worries on that front.
"I would agree you will see a little more demand pick-up not immediately after the (US) elections (but) in about 2-3 months after the election results are known irrespective of the outcome of elections. That itself is a major toss-up at this point of time", he added.