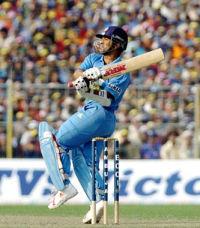 It's not just cricketers and ESPN STAR Sports, the official broadcaster, who will reap the benefits of India's memorable win in the cricket world cup.
SET Max, which will telecast the glitzy Indian Premier League matches beginning April 8, is cashing in on the feel-good factor surrounding cricket. Media buyers said it was looking at increasing spot ad rates by as much as 20-25 per cent.
"With renewed interest in cricket, advertisers will be ready to jump on the IPL bandwagon. Unlike the world cup, where advertisers preferred matches in which India was playing, IPL will face no such problem.
"Advertisers will now be more confident of associating with the property," said a senior official with Group M, a leading media investment management company.
SET Max has sold most of its ad inventory for the 74 matches. The initial ad spots have been sold for over Rs. 6.5 lakh per 10-second spot to big advertisers such as Vodafone, Godrej, Cadbury, LG and Samsung.
"The inventory will go at a premium. After India's world cup win, advertisers are willing to pay more," said a company which has been advertising heavily in the cricket season.
Rohit
Gupta, president of Multi Screen Media, which owns SET Max, refused to comment on the quantum but said the rates had been increased. Last year, the rates were between Rs. 5 lakh and Rs. 5.5 lakh for a 10-second spot.
"For the final and the two semi-finals, we will increase our rates," he said.
According to SET Max officials, the broadcaster is expected to rake in over Rs. 950-1,000 crore (Rs. 9.5-10 billion) this season. In the first season, it earned revenue of Rs. 300 crore (Rs. 3 billion), which rose to Rs. 400 crore (Rs. 4 billion) in IPL-2 and Rs. 650-700 crore (Rs. 6.5-7 billion) in IPL-3.
IPL has become a tent-pole property for advertisers. This season, over 100 brands plan to promote and launch new products.
The three previous seasons were launch pads for campaigns for big brands such as Vodafone, which launched its popular Zoozoo campaign.
The Godrej group had used the inaugural season to announce a new brand identity.
From the cricket world cup, ESPN Star Sports is said to have earned a little over Rs. 800 crore (Rs. 8 billion) in advertising revenues.
It charged Rs. 20-24 lakh for a 10-second spot in the final match. The world cup had 49 matches of 100 overs each. IPL-4 will have 74 matches of 40 overs each.